Laurens Vanthoor and Alex Kapadia join Le Mans 24 Hours test
| | |
| --- | --- |
| By Gary Watkins | Sunday, June 1st 2014, 09:26 GMT |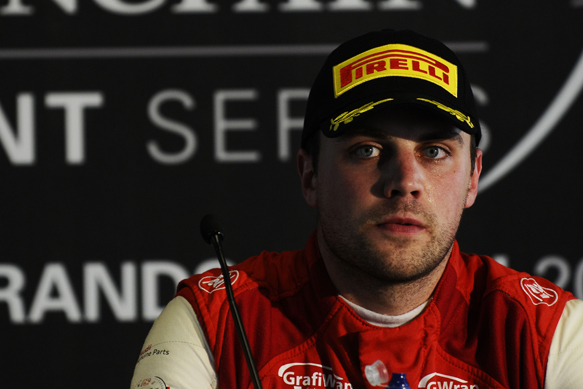 Audi factory GT driver Laurens Vanthoor and British sportscar up-and-comer Alex Kapadia are taking part in today's Le Mans 24 Hours test day.
Vanthoor and Kapadia will respectively drive the Sebastien Loeb Racing and Murphy Prototypes ORECA-Nissan 03Rs over the course of the test even though they are not scheduled to take part in the race.
They will then be able to join the list of approved drivers eligible to take part in the 24 Hours if they complete the pre-requisite number of laps.
Vanthoor had been scheduled to contest the race with Loeb before the French team was forced to reshuffle its line-up after a sponsorship deal failed to come through.

Le Mans test updates in AUTOSPORT Race Centre Live
The Belgian, co-champion with former Le Mans winner Stephane Ortelli in last year's FIA GT Series, said: "Every driver wants to do Le Mans, so it is good to do the test even if it looks like I won't do the race this year.
"It's also good for me to show to Audi that I have experience of Le Mans."
Kapadia, who drove for Murphy at the Silverstone European Le Mans Series opener in April, has been given his test day chance after missing out on a drive at the Imola round of the ELMS.
He was scheduled to drive for Murphy, before Nathanael Berthon firmed up a deal with the team covering Imola and Le Mans.
Kapadia said: "Greg [Murphy, team boss] felt bad about what happened and has given me the chance to do my 10 laps.
"I want to get on the list so that I'm ready for any opportunity that might come up."
Dan Norris-Jones, who races in the Ginetta GT4 Supercup, is taking part in the test day in the #41 Greaves Motorsport Zytek-Nissan Z11SN.
GREAVES ALLOWED TO ADJUST ENTRIES
An anomaly of the Le Man entry list was removed ahead of the test day.
The #42 Greaves Zytek, which is entered under the Caterham Racing banner, will now carry allegiance to the British sportscar builder instead of its sister car.
The #42 entry was made for the 24 Hours in conjunction with Caterham. The manufacturer subsequently cancelled its programme after only being granted a spot on the reserve list, but Greaves was allowed to retain what became a firm entry without changing the name.
The #41 Greaves car was originally down to carry Caterham decals because Dyson Racing, whose boss Chris is racing the car along with Tom Kimber-Smith and Matt McMurry, is the North American agent for the Caterham SP/300.R race and trackday car.
They have now been allowed to swap to the #42 entry, a move that team boss Tim Greaves described as a "common sense decision".