Hungary European F3: Lotus F1 protege Esteban Ocon sweeps poles
| | |
| --- | --- |
| By Andrew van Leeuwen | Saturday, May 31st 2014, 15:49 GMT |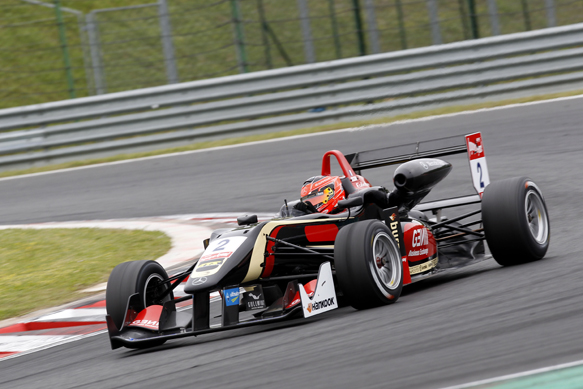 Prema driver Esteban Ocon will start both remaining Formula 3 European Championship races at the Hungaroring from pole position.
The Lotus junior continued his stunning qualifying in Saturday afternoon's 20-minute session, locking down one pole with a 1m35.872s lap, before improving his best to a 1m35.800s to ensure that he will start both of Sunday's races from the front.
The pair of poles makes it a qualifying clean sweep for Ocon, who also started Saturday morning's first race from P1.
Ocon's Prema team-mate Antonio Fuoco left his run reasonably late, jumping to second for race two with four minutes left, before going quicker again on the next lap, down to a 1m36.099s, to snare second for race three as well.
Mucke pair Lucas Auer and Felix Rosenqvist locked down third and fourth respectively for both races, Auer actually setting the best first sector of the session, while Max Verstappen ensured the top five will be the same for both races.
Race one winner Tom Blomqvist was unable to match the pace that he showed earlier in the weekend, and will start the two races from sixth and seventh, while Antonio Giovinazzi mirrored Blomqvist's result with seventh for race one and sixth for race two.
Britons Jordan King and Jake Dennis will start race two eighth and ninth respectively, however while King will also start eighth in race three, Dennis will be back in 13th.
Nichols Latifi will start both races from the top 10, with 10th in race two and ninth in race three, while West-Tec's Felix Serralles will start the races 11th and 10th.
Follow both of Sunday's Hungaroring European F3 races as they happen on AUTOSPORT Race Centre Live - starting at approximately 9.45am and 3.45pm UK time

Race two qualifying:

Pos  Driver               Team/Car                        Time       Gap
 1.  Esteban Ocon         Prema Dallara-Merc              1m35.800s
 2.  Antonio Fuoco        Prema Dallara-Merc              1m36.099s  +0.299s
 3.  Lucas Auer           Mucke Dallara-Merc              1m36.157s  +0.357s
 4.  Felix Rosenqvist     Mucke Dallara-Merc              1m36.264s  +0.464s
 5.  Max Verstappen       Van Amersfoort Dallara-VW       1m36.279s  +0.479s
 6.  Tom Blomqvist        Carlin Dallara-VW               1m36.360s  +0.560s
 7.  Antonio Giovinazzi   Carlin Dallara-VW               1m36.389s  +0.589s
 8.  Jordan King          Carlin Dallara-VW               1m36.444s  +0.644s
 9.  Jake Dennis          Carlin Dallara-VW               1m36.473s  +0.673s
10.  Nicholas Latifi      Prema Dallara-Merc              1m36.617s  +0.817s
11.  Felix Serralles      West-Tec Dallara-Merc           1m36.649s  +0.849s
12.  Gustavo Menezes      Van Amersfoort Dallara-VW       1m36.663s  +0.863s
13.  Roy Nissany          Mucke Dallara-Merc              1m36.786s  +0.986s
14.  Mitchell Gilbert     Fortec Dallara-Merc             1m36.922s  +1.122s
15.  John Bryant-Meisner  Fortec Dallara-Merc             1m36.936s  +1.136s
16.  Dennis van de Laar   Prema Dallara-Merc              1m36.937s  +1.137s
17.  Felipe Guimaraes     Double R Dallara-Merc           1m36.970s  +1.170s
18.  Sean Gelael          Carlin Dallara-VW               1m37.013s  +1.213s
19.  Jules Szymkowiak     Van Amersfoort Dallara-VW       1m37.057s  +1.257s
20.  Tatiana Calderon     Jo Zeller Dallara-Merc          1m37.345s  +1.545s
21.  Alexander Toril      T-Sport Dallara-NBE             1m37.405s  +1.605s
22.  Spike Goddard        T-Sport Dallara-NBE             1m37.587s  +1.787s
23.  Hector Hurst         West-Tec Dallara-Merc           1m37.718s  +1.918s
24.  Sandro Zeller        Jo Zeller Dallara-Merc          1m37.765s  +1.965s
25.  Michele Beretta      Eurointernational Dallara-Merc  1m37.866s  +2.066s

Race three qualifying:

Pos  Driver               Team/Car                        Time       Gap
 1.  Esteban Ocon         Prema Dallara-Merc              1m35.827s
 2.  Antonio Fuoco        Prema Dallara-Merc              1m36.102s  +0.275s
 3.  Lucas Auer           Mucke Dallara-Merc              1m36.216s  +0.389s
 4.  Felix Rosenqvist     Mucke Dallara-Merc              1m36.325s  +0.498s
 5.  Max Verstappen       Van Amersfoort Dallara-VW       1m36.400s  +0.573s
 6.  Antonio Giovinazzi   Carlin Dallara-VW               1m36.451s  +0.624s
 7.  Tom Blomqvist        Carlin Dallara-VW               1m36.471s  +0.644s
 8.  Jordan King          Carlin Dallara-VW               1m36.685s  +0.858s
 9.  Nicholas Latifi      Prema Dallara-Merc              1m36.687s  +0.860s
10.  Felix Serralles      West-Tec Dallara-Merc           1m36.727s  +0.900s
11.  Roy Nissany          Mucke Dallara-Merc              1m36.854s  +1.027s
12.  Gustavo Menezes      Van Amersfoort Dallara-VW       1m36.917s  +1.090s
13.  Jake Dennis          Carlin Dallara-VW               1m36.948s  +1.121s
14.  Dennis van de Laar   Van Amersfoort Dallara-VW       1m36.977s  +1.150s
15.  John Bryant-Meisner  Fortec Dallara-Merc             1m37.064s  +1.237s
16.  Mitchell Gilbert     Fortec Dallara-Merc             1m37.147s  +1.320s
17.  Jules Szymkowiak     Van Amersfoort Dallara-VW       1m37.172s  +1.345s
18.  Sean Gelael          Carlin Dallara-VW               1m37.187s  +1.360s
19.  Felipe Guimaraes     Double R Dallara-Merc           1m37.269s  +1.442s
20.  Tatiana Calderon     Jo Zeller Dallara-Merc          1m37.515s  +1.688s
21.  Spike Goddard        T-Sport Dallara-NBE             1m37.695s  +1.868s
22.  Hector Hurst         West-Tec Dallara-Merc           1m37.857s  +2.030s
23.  Sandro Zeller        Jo Zeller Dallara-Merc          1m37.915s  +2.088s
24.  Alexander Toril      T-Sport Dallara-NBE             1m38.034s  +2.207s
25.  Michele Beretta      Eurointernational Dallara-Merc  1m38.169s  +2.342s