Massa thinks Hamilton and Rosberg can be enemies in F1 title fight
| | |
| --- | --- |
| By Ben Anderson | Friday, May 30th 2014, 09:31 GMT |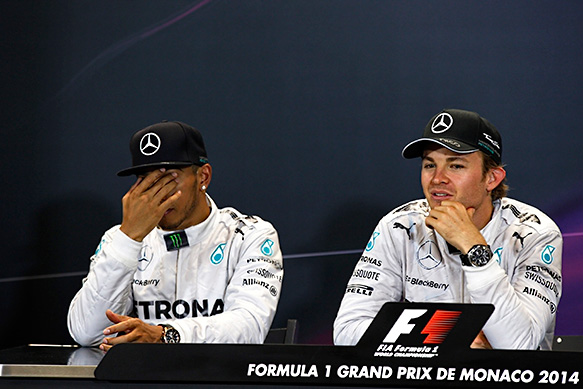 Felipe Massa reckons it is not necessary for Formula 1 rivals Lewis Hamilton and Nico Rosberg to maintain a good relationship, because Mercedes is so far ahead of the opposition.
Massa, who fought Hamilton for the 2008 world title as a Ferrari driver, says good relations with team-mates are only necessary to ward off a threat from rival outfits.
"It doesn't matter the relationship," Massa said, when asked by AUTOSPORT whether it was important for Hamilton and Rosberg to have a good relationship.
"It's important to be working well to have the team improving compared to the other teams, but they don't need that - they have the best car from now until the end of the championship.
"For me, if Nico did what he did at Monaco on purpose, it is something that is against my mentality, but it shows maybe under the pressure he can make mistakes.
"Maybe Lewis was stronger than Nico on the track and by doing that it can put Lewis in a difficult mental situation. You never know.
"It's interesting. When you're fighting just with your team-mate for a championship, maybe some tricks can work."
Massa said his own relationship with Kimi Raikkonen at Ferrari in 2008 was different, because they had to carry the fight to McLaren.
"It was different because we were fighting with another team," Massa added. "We never did anything against one to the other, or not telling each other something on the set-up."
MENTAL CHALLENGE
McLaren's Jenson Button, who asserted himself over Brawn GP team-mate Rubens Barrichello to win the 2009 title, said fighting with a team-mate generated extra mental pressure on the drivers involved.
"With Rubens it was a pretty good atmosphere most of the time - the only dodgy moment we had was in Barcelona when I changed strategies halfway through the race, which I am allowed to do," Button said.
"When you are racing your team-mate he sees every single bit of data, whether it's braking, whether it's through a corner, whether it's locking up, whether it is not making a corner, so it is always tough as team-mates mentally, and it will be very up and down for two guys fighting for the world championship in the same team.
"Emotionally it is very, very tough, so it is when you really find out what you are made of."