Indy 500: Kurt Busch says he must remain focused on double-race day
| | |
| --- | --- |
| By Mark Glendenning | Saturday, May 24th 2014, 13:04 GMT |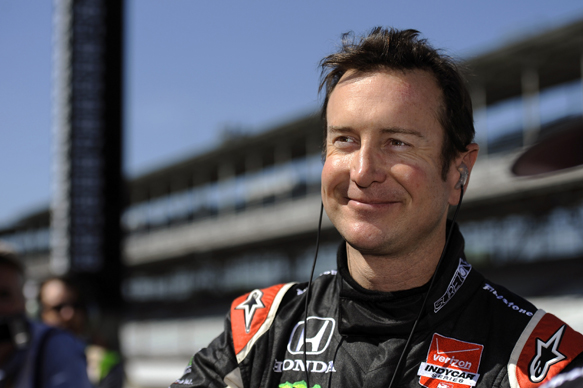 Kurt Busch says that it is critical that he maintains focus as he prepares to become just the fourth driver to complete the Charlotte 600 and the Indianapolis 500 double.
The 2004 NASCAR Sprint Cup champion will start from 12th on the grid at Indianapolis and from the rear of the field at Charlotte.
He admitted that there had been moments where he had allowed himself to savour the opportunity to contest both events, but said that the time has come to step up his game.
"There is the 'stop and smell the roses' moment," Busch said.
"To me it's getting closer to race time. I have to be focused, put the blinders on. I've had enough time to smell the roses. I'm starting next to [Scott] Dixon. I have a responsibility to be a racecar driver.

Indy 500 analysis: What we've learned
"As each day gets closer, you're getting more anxious to get it done because you've been preparing for so long, then experiencing so many new things.
"I'm the least-prepared of the individuals who have done the double. They've all come from the open-wheel world and settled into the NASCAR world.
"For me, the lack of experience in the IndyCar world is what makes this fun, exciting, challenging.
"At the end of the day it's just about giving it my best and not making a mistake on Sunday to try to get 1100 miles in."
Busch will drive a back-up car at Indy following his heavy crash in practice, and while he admits that he still has reservations about the amount of turbulence that will be created when all 33 cars are running together, he is optimistic that he can finish strongly.
"These cars are different to drive," he said.
"The draft and the tow are much more violent than what it is in NASCAR. The simulation of 33 cars won't happen until Sunday.
"I give myself a B-minus right now. I still have to work through traffic and to pass cars and let others feel confident around me. I need the first half the race to do such.
"Can we win? We have to put ourselves in position to win; we can't ask for it.
"Tony Stewart set the benchmark in this race for the double [in 2002] - lead a lap in both races. Top of the field is what I'm shooting for."
Chip Ganassi, who ran Stewart's IndyCar attempt at the double, said that the difficulty of what Busch is attempting to do should not be underestimated.
"It's a tall order," Ganassi said. "We did it in 2002 with Tony Stewart and it's a lot to concentrate on both - the cars are so different, the teams, the culture, the rules; it's hard to keep that all straight in your head. And that from time to time can take away from your concentration.
"Kurt's a great driver. He can do the driving part, but I'm always concerned about that last one or two per cent to be sharp. He'll be fine."