Indianapolis 500: Tony Kanaan quickest on Carb Day
| | |
| --- | --- |
| By Mark Glendenning | Friday, May 23rd 2014, 16:38 GMT |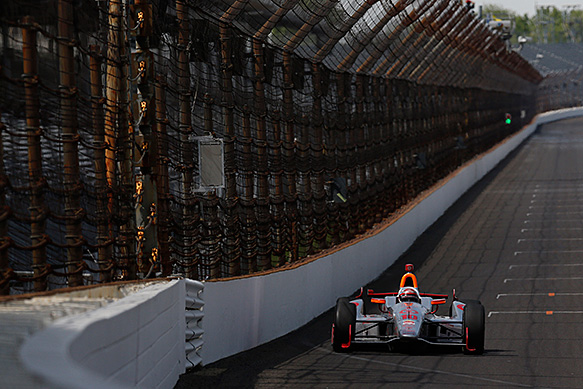 Tony Kanaan led Scott Dixon to a Chip Ganassi Racing 1-2 on Carb Day, the final major practice session before the Indianapolis 500 on Sunday.
Kanaan, who won the Indy 500 last year, went to the top relatively early in the session with a 227.838mph average, and it remained good enough to keep him at the top until the end.
Dixon's benchmark, set even earlier, was just a fraction slower at 227.773mph.
"Lap times don't count today," said Kanaan. "But it's nice to be up there. I'm feeling good."
Dixon was similarly keen to downplay the importance of the result.
"The times are just how you place yourself [in the tow]," he said. "I think there are other cars capable of the same thing.
"Last year we did something similar and the cars were actually pretty horrible in the race, so hopefully that doesn't happen again ..."
Townsend Bell, driving one of the two additional entries added by KV Racing for the race, finished up third fastest ahead of three-time winner Helio Castroneves and rookie Mikhail Aleshin.
The morning was interrupted just once by a yellow flag, which was triggered mid-way through the session by an incident involving Ganassi rookie Sage Karam.
The teenager was caught out by a dramatic change in airflow over his front wing while closely following James Hinchcliffe and was flicked up into the wall at Turn 4.
Karam made a superb save, and somehow managed to escape anything worse than a glancing blow.
"This is one big learning experience - I'm learning every day that I'm in the car," Karam said. "It's much better that this happened today than in the race."
Fellow rookie James Davison's day was cut short by a mechanical problem. With the Australian's programme having only started last Thursday, it leaves him with relatively little track time in race trim.
"There was an issue with the starter mechanism," he said. "It would have been nice to have got those last 15 minutes in. The car as better than it was on Monday though, so that's a plus."
Kurt Busch returned from NASCAR qualifying at Charlotte on Thursday night to resume his Indy 500 preparations, the Andretti driver having his first run in the back-up car that he will use on Sunday following his earlier crash. He finished up 15th fastest.
"I had to get back on the horse," he said. "As the NASCAR guys say, I have to thank my crew.
"The Andretti guys had to take Marco Andretti's car, which he is going to run next week in Detroit, and convert it to oval-spec.
"That [session] was the happy-hour thrash, just a chance to get comfortable. I'd give myself a B overall."
Pos Driver              Car              Speed
 1. Tony Kanaan         Ganassi/Chevy    227.838mph
 2. Scott Dixon         Ganassi/Chevy    227.773mph
 3. Townsend Bell       KV/Chevy         227.221mph
 4. Helio Castroneves   Penske/Chevy     226.187mph
 5. Mikhail Aleshin     Schmidt/Honda    226.045mph
 6. Ryan Hunter-Reay    Andretti/Honda   225.810mph
 7. Marco Andretti      Andretti/Honda   225.800mph
 8. Alex Tagliani       Fisher/Honda     225.598mph
 9. Juan Pablo Montoya  Penske/Chevy     225.452mph
10. Josef Newgarden     Fisher/Honda     225.245mph
11. Will Power          Penske/Chevy     225.212mph
12. James Hinchcliffe   Andretti/Honda   224.910mph
13. Ed Carpenter        Carpenter/Chevy  224.898mph
14. Buddy Lazier        Lazier/Chevy     224.812mph
15. Kurt Busch          Andretti/Honda   224.684mph
16. Ryan Briscoe        Ganassi/Chevy    224.585mph
17. JR Hildebrand       Carpenter/Chevy  224.507mph
18. Simon Pagenaud      Schmidt/Honda    224.490mph
19. Jack Hawksworth     Herta/Honda      224.263mph
20. Justin Wilson       Coyne/Honda      224.209mph
21. Carlos Huertas      Coyne/Honda      223.977mph
22. James Davison       KV/Chevy         223.947mph
23. Takuma Sato         Foyt/Honda       223.895mph
24. Oriol Servia        Rahal/Honda      223.677mph
25. Pippa Mann          Coyne/Honda      223.346mph
26. Charlie Kimball     Ganassi/Chevy    223.224mph
27. Sebastien Bourdais  KV/Chevy         223.223mph
28. Carlos Munoz        Andretti/Honda   223.220mph
29. Martin Plowman      Foyt/Honda       223.127mph
30. Jacques Villeneuve  Schmidt/Honda    223.123mph
31. Graham Rahal        Rahal/Honda      222.400mph
32. Sage Karam          Ganassi/Chevy    222.329mph
33. Sebastian Saavedra  KV/Chevy         222.190mph