Silverstone British F3: Cao storms to double pole
| | |
| --- | --- |
| By Marcus Simmons | Friday, May 23rd 2014, 15:48 GMT |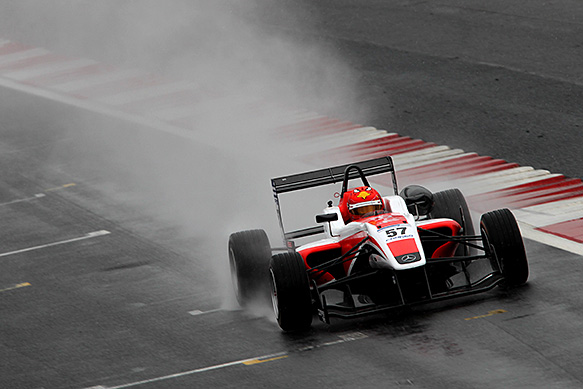 British Formula 3 Championship leader Martin Cao put the highly fancied interlopers in their place by taking a spectacular double pole position for this weekend's races at Silverstone.
The session took place on a wet track, with the rain worsening from the midpoint onwards.
Chinese racer Cao stamped in a time seven tenths quicker than Formula Renault Eurocup ace Egor Orudzhev, who is making his F3 debut this weekend.
Cao's Fortec Motorsport Dallara-Mercedes sat out the first of the morning's two free practice sessions - the second of which had drizzle halfway through - because its driver was taking an exam for his finals at Keele University.
A 40-minute helicopter flight got him to Silverstone in time for the second session, but he is lacking in dry track time.
Orudzhev, driving a Carlin Dallara-Volkswagen, split the free practice honours with Fortec runner Marvin Kirchhofer, but the Russian comfortably beat the German GP3 contender when it mattered to take front-row spots for both races.
Andy Chang was a distant fourth in his Double R Racing Dallara-Mercedes, with Fortec's Matt Rao next. Rockingham winner Rao missed much of the least-wet running as he pitted after just one flying lap, returning to the track when conditions had worsened.
On second-best times, which determine the grid for race one, Peter Li (Carlin) moves ahead of Rao for fifth. Camren Kaminsky was in another in the pits early in the session, so is well adrift in the times.
Race 1 grid

Pos Driver               Car                         Time
 1. Martin Cao           Fortec Dallara-Mercedes     2m17.473s
 2. Egor Orudzhev        Carlin Dallara-VW           2m18.012s  +0.539s
 3. Marvin Kirchhofer    Fortec Dallara-Mercedes     2m18.435s  +0.962s
 4. Andy Chang           Double R Dallara-Mercedes   2m21.937s  +4.464s
 5. Peter Li             Carlin Dallara-VW           2m24.085s  +6.612s
 6. Matt Rao             Fortec Dallara-Mercedes     2m24.123s  +6.650s
 7. Camren Kaminsky      Double R Dallara-Mercedes   2m26.319s  +8.846s

Race 3 grid

Pos Driver               Car                         Time
 1. Martin Cao           Fortec Dallara-Mercedes     2m16.921s
 2. Egor Orudzhev        Carlin Dallara-VW           2m17.621s  +0.700s
 3. Marvin Kirchhofer    Fortec Dallara-Mercedes     2m18.424s  +1.503s
 4. Andy Chang           Double R Dallara-Mercedes   2m21.778s  +4.857s
 5. Matt Rao             Fortec Dallara-Mercedes     2m23.352s  +6.431s
 6. Peter Li             Carlin Dallara-VW           2m23.961s  +7.040s
 7. Camren Kaminsky      Double R Dallara-Mercedes   2m26.284s  +9.363s