Monaco GP2: Caterham's Rio Haryanto loses front row slot to penalty
| | |
| --- | --- |
| | Thursday, May 22nd 2014, 19:08 GMT |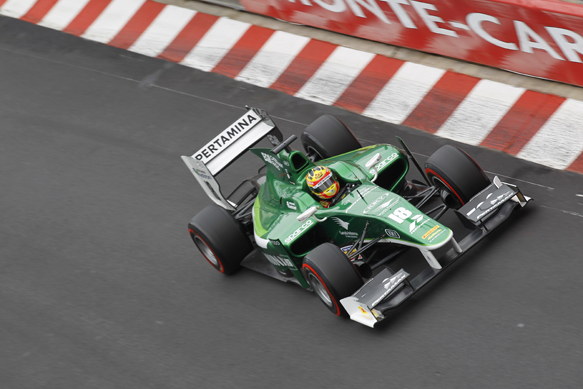 Caterham driver Rio Haryanto has lost his front-row start for the Monaco GP2 feature race after being hit with a blocking penalty post-qualifying.
Haryanto had topped the group B session in Monte Carlo's split qualifying format, earning him second on the grid alongside polesitter Jolyon Palmer, who set the pace in the faster group A session.
But Haryanto was adjudged to have blocked Stephane Richelmi at the Rascasse and has been given a three-place penalty as a result, dropping him to fifth.
That moves Russian Time driver Mitch Evans onto the front row, with Richelmi and Johnny Cecotto Jr third and fourth.
Haryanto was one of four drivers given three-place impeding penalties, along with Williams Formula 1 test driver Felipe Nasr, and Daniel Abt and Facu Regalia, who race for the Force India F1 team-affiliated Hilmer squad.
Abt had been the highest-placed of this trio, having originally qualified seventh before being found guilty of delaying Cecotto at the chicane.
Cecotto was also the victim in Carlin man Nasr's incident, which took place at the Anthony Noghes corner. Nasr had only qualified 15th, having crashed in free practice.
Regalia was 20th prior to his penalty for impeding Sergio Canamasas at the Swimming Pool chicane.
REVISED GRID:
Pos  Driver               Team                Time       Group
 1.  Jolyon Palmer        DAMS                1m20.774s  Group A
 2.  Mitch Evans          Russian Time        1m21.188s  Group A
 3.  Stephane Richelmi    DAMS                1m21.444s  Group B
 4.  Johnny Cecotto Jr    Trident             1m21.361s  Group A
 5.  Rio Haryanto         Caterham            1m21.433s  Group B*
 6.  Stoffel Vandoorne    ART                 1m21.508s  Group B
 7.  Stefano Coletti      Racing Engineering  1m21.649s  Group B
 8.  Raffaele Marciello   Racing Engineering  1m21.917s  Group A
 9.  Julian Leal          Carlin              1m21.752s  Group B
10.  Daniel Abt           Hilmer              1m21.760s  Group A*
11.  Alexander Rossi      Caterham            1m22.146s  Group A
12.  Sergio Canamasas     Trident             1m21.926s  Group B
13.  Simon Trummer        Rapax               1m22.296s  Group A
14.  Arthur Pic           Campos              1m22.207s  Group B
15.  Rene Binder          Arden               1m22.270s  Group B
16.  Kimiya Sato          Campos              1m22.588s  Group A
17.  Adrian Quaife-Hobbs  Rapax               1m22.277s  Group B
18.  Felipe Nasr          Carlin              1m22.381s  Group A*
19.  Tio Ellinas          MP                  1m22.681s  Group A
20.  Conor Daly           Lazarus             1m22.997s  Group A
21.  Daniel de Jong       MP                  1m22.488s  Group B
22.  Andre Negrao         Arden               1m23.178s  Group A
23.  Facu Regalia         Hilmer              1m22.473s  Group B*
24.  Nathanael Berthon    Lazarus             1m22.632s  Group B
25.  Takuya Izawa         ART                 1m23.259s  Group A
26.  Artem Markelov       Russian Time        1m23.347s  Group B**

* Three-place blocking penalty
** Pitlane start due to Barcelona penalty