Kligerman considering IndyCar switch after losing NASCAR drive
| | |
| --- | --- |
| By Mark Glendenning | Tuesday, May 20th 2014, 09:00 GMT |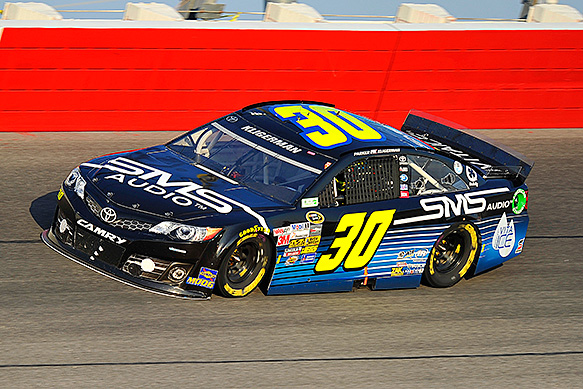 NASCAR driver Parker Kligerman is considering a switch to IndyCar as he continues to evaluate his options following the sale of his Cup team Swan Racing earlier this year.
Kligerman was sidelined in April when Swan sold his #30 entry to Xxxtreme Motorsport, which now uses it to run JJ Yeley.
Kligerman remains under contract to the team, although he is on standby for Stewart Haas in case Kurt Busch is unable to race in Charlotte next weekend.
The 23-year-old is continuing to look for opportunities to return to the cockpit full time, and while visiting Indianapolis Motor Speedway during preparations for the Indianapolis 500 he admitted that single-seaters could be a potential avenue in the future.
"I actually started racing in open-wheel cars," he said. "I did Formula Renault [in] my first ever season, and Skip Barber.
"I wanted to go over to Europe, but just couldn't afford it. Stock car (racing) was a place you could go as a young kid and get an opportunity. I was able to take that opportunity and get to the top of that sport.
"I have a love for open-wheel cars and it's something that me and my manager Bob Perona have talked about.
"I've been given a bit of a vacation right now, so I'm taking the opportunity as a race fan and a racer to see what's out there and what the possibilities are."
Kligerman admitted that he is inspired by the example set last year by AJ Allmendinger, who returned from a NASCAR suspension to spend the year alternating between stock car and IndyCar rides before landing a full-time Cup drive with JTG Daugherty Racing.
"AJ and I are good friends and we've talked about it a lot," he said. "His year last year, where he took a step back from full-time stock cars, is the example of how to do it.
"Go out and drive as many different cars as you can, and do as well as you can and enjoy racing.
"I was talking to Roger (Penske) yesterday and we were talking about that same situation. He saw me and said, 'What are you doing here?' and I said, 'Just looking around.' And he said, 'Well, AJ did it last year.'
"We laughed about it. It's almost harkens back to the days when guys drove everything. I think guys are looking to do more of that because we get bored doing the same thing week in and week out."