NASCAR All-Star: Ganassi's Jamie McMurray wins $1 million race
| | |
| --- | --- |
| | Sunday, May 18th 2014, 03:29 GMT |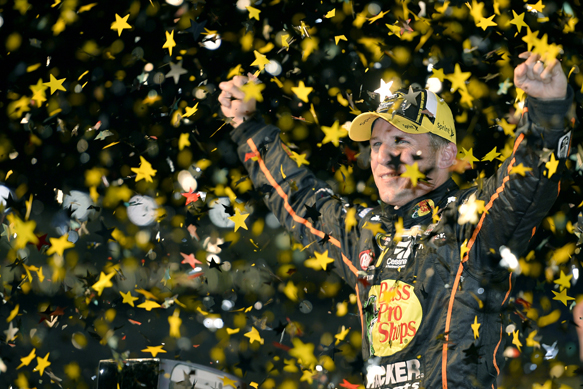 Jamie McMurray took Ganassi's first NASCAR victory of 2014 by winning the non-championship $1 million All-Star race at Charlotte Motor Speedway.
Generally changing only two tyres in the pitstops between the race's five segments kept McMurray towards the front for most of the distance, even though rivals with four new tyres kept shuffling him back.
With average positions from the first four segments setting the order prior to the compulsory four-tyre stops in the final break, McMurray emerged from the pits for the last time second behind Carl Edwards.
The pair banged doors repeatedly when the final 10-lap shootout got underway, before McMurray managed to get into the lead around the outside and then pull away.
Kevin Harvick, who had led after segment four, tried to hunt McMurray down once he had escaped from his own battle with Edwards but fell 0.696 seconds short.
Polesitter Edwards slipped back to fifth behind Matt Kenseth and Dale Earnhardt Jr.
The drivers who topped the opening segments hit trouble later.
Segment one top dog Kyle Busch made contact with Clint Bowyer early in segment two. As Bowyer's Toyota fishtailed, it clipped Busch into a spin, with Joey Logano then violently collecting the Joe Gibbs Toyota as it bounced back off the outside wall.
Kasey Kahne led at the end of both segments two and three, then wrecked his chances by clouting the wall in the fourth part.
Accidents also accounted for AJ Allmendinger, who spun into the inside wall after contact with Brian Vickers, and Jeff Gordon - who took Martin Truex Jr and Greg Biffle out with him when something went awry at the front of his Chevrolet in segment four.
Results - 90 laps:

Pos  Driver             Team/Car                     Time/Gap
 1.  Jamie McMurray     Ganassi Chevrolet        1h20m35.000s
 2.  Kevin Harvick      Stewart-Haas Chevrolet        +0.696s
 3.  Matt Kenseth       Joe Gibbs Toyota              +1.154s
 4.  Dale Earnhardt Jr  Hendrick Chevrolet            +2.695s
 5.  Carl Edwards       Roush Fenway Ford             +3.859s
 6.  Jimmie Johnson     Hendrick Chevrolet            +4.120s
 7.  Clint Bowyer       Waltrip Toyota                +4.405s
 8.  Brian Vickers      Waltrip Toyota                +5.029s
 9.  Denny Hamlin       Joe Gibbs Toyota              +5.298s
10.  Brad Keselowski    Penske Ford                   +5.810s
11.  Kurt Busch         Stewart-Haas Chevrolet        +6.268s
12.  Tony Stewart       Stewart-Haas Chevrolet        +7.540s
13.  David Ragan        Front Row Ford                +9.747s
14.  Kasey Kahne        Hendrick Chevrolet           +10.060s
15.  Josh Wise          Parsons Ford                 +13.004s

Retirements:

     Ryan Newman        Childress Chevrolet           77 laps
     Jeff Gordon        Hendrick Chevrolet            60 laps
     Martin Truex Jr    Furniture Row Chevrolet       60 laps
     Greg Biffle        Roush Fenway Ford             60 laps
     AJ Allmendinger    JTG Daugherty Chevrolet       30 laps
     Kyle Busch         Joe Gibbs Toyota              25 laps
     Joey Logano        Penske Ford                   25 laps