Danica Patrick told to stop over-thinking NASCAR Sprint Cup races
| | |
| --- | --- |
| | Wednesday, May 14th 2014, 13:56 GMT |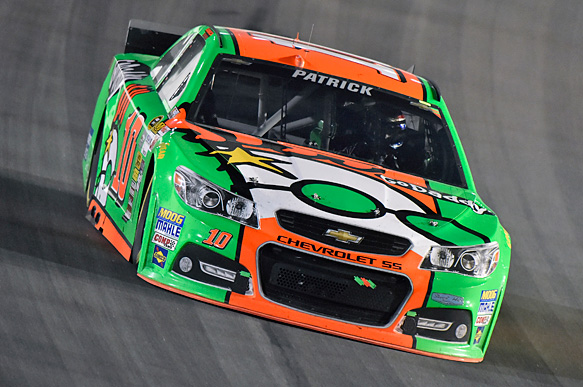 Danica Patrick has been urged to stop over-thinking NASCAR Sprint Cup races by her Stewart-Haas team-mates, as she took a career-best result at Kansas.
In her strongest Cup performance away from a restrictor-plate track, Patrick qualified ninth and ran among the lead pack all night on the way to seventh place.
Fellow Stewart-Haas driver Harvick, who took pole and second place, believes Patrick's confidence is increasing, but says he has told her to stop trying to perfect car set-up and just adapt.
"She's run well all weekend, qualified well, and raced well all night," said Harvick.
"We talk a lot, and for her it's just the confidence in knowing exactly what the car is going to do.
"There are a lot of hurdles to overcome for her to make up that experience. I feel like we can help her speed that process up by just telling her some of the things that she should expect and do.
"She kept her track position on the restarts. That's probably the biggest thing.
"But I guess the one thing I did tell her was just to quit thinking about it and smash the gas.
"Sometimes your car is never going to be perfect, and you just have to take what it'll give you and expect that every time you pit it's going to be better, and if it's not you adjust and move on."
Kansas race winner Jeff Gordon added that Patrick had impressed him with her aggression.
"She was very impressive. One time I started on the outside of her, and she left me into Turn 1 and then she just about passed the two cars ahead of us going into [Turn] 3.
"It was pretty obvious she was feeling comfortable, had a fast race car. It's a real testament to her work ethic and her talent as well as Stewart-Haas.
"She started behind me on another restart and I had to hold her off. She was aggressive, real aggressive."
Patrick believes that results such as Saturday's are repaying Stewart-Haas's faith in her.
"If we do this enough, it's the kind of thing that materialises in wins," she said.
"We've just got to keep doing what we're doing and I'm just proud of everyone for working really hard and believing in me."