FIA sees no reason to cancel Russian Grand Prix
| | |
| --- | --- |
| By Jonathan Noble | Tuesday, May 13th 2014, 10:48 GMT |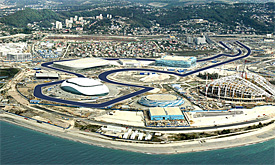 Formula 1's ruling body, the FIA, insists there are no grounds to consider cancelling the Russian Grand Prix, despite the political tensions in the country.
The fate of the country's first Formula 1 race, which is due to take place at Sochi on October 12, has been thrown in to the spotlight because of the crisis in the Ukraine.

Will the Russian Grand Prix happen?

Fresh questions have also been prompted in recent weeks following the decision of motorcycle racing's governing body, the FIM, to call off a World Superbike Championship round due to take place at Moscow Raceway in September.
But despite the situation, FIA president Jean Todt is adamant that he is happy with the Russian GP going ahead as planned.
"At the moment there is no change in the calendar. Russia is on," he said.
When asked by AUTOSPORT whether or not the FIM's decision changed things for him he said: "I am comfortable with what the FIM is doing, sure, but at the moment we don't have any reason to reconsider any race we have on the calendar.
"We speak to people who are involved with all that, but at the moment we have nothing that should change the running of the calendar."
The FIM said that its decision not to race in Russia was directly related to the situation in the Ukraine.
A statement issued last month said: "The current political situation affects the capabilities of a number of key partner companies essential to run the event."
In a repeat of the situation F1 faced in Bahrain a few years ago, when political troubles there cast doubt on whether or not the event should happen, teams say that they will race there if the FIA and governments say it is safe to do so.
Force India's deputy team principal Bob Fernley said: "I think there were certain criticisms that came to the teams and the organisation going to Bahrain but we were clearly in line and in accordance with British government guidelines.
"I think unless the British government advise otherwise and then from that obviously the FIA and FOM, then we are obliged to go, we are contracted to go."