BTCC drivers call for changes at Thruxton after crashes
| | |
| --- | --- |
| By Kevin Turner | Tuesday, May 13th 2014, 09:50 GMT |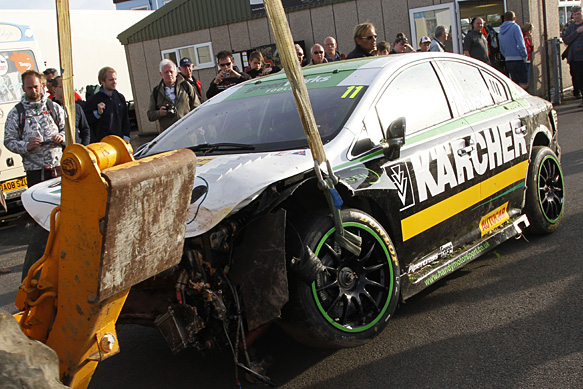 British Touring Car drivers have called for changes to be made at Thruxton after the accidents that took place during the circuit's recent BTCC round.
Three machines suffered high-speed crashes at the fast Church right-hander and the cars of Ollie Jackson and Simon Belcher hit trees.
Several BTCC figures have called for barrier modifications to be made, but there is also agreement that the circuit itself should remain untouched.
Reigning champion Andrew Jordan, who won race one at Thruxton, told AUTOSPORT: "I think changes are needed.
"I think maybe a barrier with more tyres, or one that was further back, would be better. There's an argument that a metal barrier would make the stop too abrupt.
"They dodged a couple of bullets, but they need to be careful because they don't want to spoil one of the best corners in UK motorsport."
Belcher, whose Handy Motorsport squad is working to fix his Toyota Avensis in time for the next round at Oulton Park, agreed.

"There's a little area [where his Toyota landed, behind the tyrewall] with smallish trees, that's what stopped the car," said Belcher, who suggested an F1-style barrier, with a tyrewall, crash structure area and then another tyrewall, could work.
"We don't need a gravel trap - if someone loses it sideways it's likely to roll - but a bit more Tarmac run-off would help to give you more time to use the brakes.
"I think they should do two things: they need to make sure the grass is as smooth as they can get it, so cars don't bounce, and they need a barrier to stop the car.
"It needs some investment to provide something that slows the cars in a reasonable manner."
Dan Welch, who runs Jackson's Proton, added: "You don't want to lose the character of the circuit and they don't have the budget of somewhere like Silverstone.
"The worst thing they could do is put a chicane at Church.
"It needs something. What they've got there wasn't right. If you go off at Church you know you're going to have a big crash, but you don't want to hit a tree."
Thruxton operator the BARC has already confirmed it will look into the matter.