Indianapolis 500: Ryan Hunter-Reay and Andretti fastest on day two
| | |
| --- | --- |
| By Mark Glendenning | Monday, May 12th 2014, 23:47 GMT |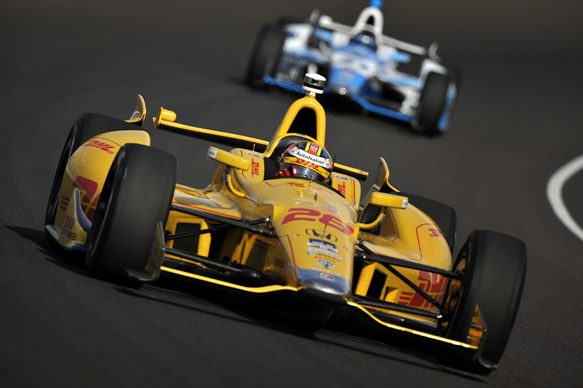 Ryan Hunter-Reay led Marco Andretti for an Andretti Autosport one-two on the speed charts at the end of the second day of practice for the Indianapolis 500.
The 2012 series champion finished the day with a fastest average speed of 225.025mph; roughly 2mph quicker than the benchmark set by Will Power on Sunday.
Andretti's best was a 224.037mph average, with three-time Indy 500 winner Helio Castroneves just behind him at 223.635mph.
Justin Wilson and Juan Pablo Montoya rounded out the top five.
"We got a lot of work done today; a lot for what we need for the race weekend," said Hunter-Reay, who completed 113 laps.
"It was fun with my team-mates. That's the great thing about Andretti Autosport, we have five quick cars and we can all run together.
"We were getting a feel for downforce levels and race simulation running. It was fun, we got through a lot of work today and it's only Monday."
Occasional rain showers were responsible for most of the 10 caution periods that occurred during the day. The other was caused by Ed Carpenter, whose car suffered a mechanical problem.
But despite the interruptions 30 cars managed to get some track time, with last year's winner Tony Kanaan ticking off a field-high 131 laps.
"Lots and lots of running out there," said the Brazilian. "Today is only the first day of testing the primary car for the race, so we went through a laundry list of items we've been wanting to run. Overall it was a good day of learning for us."
An additional incentive for maximising running time on Monday may have been the weather forecast, which heralds the possibility of more rain in the days ahead.
The only drivers still yet to make an appearance on the track for Indy practice are James Davison, who is scheduled to begin running on Thursday, Buddy Lazier, and Sebastian Saavedra.
Pos  Driver              Team/Engine      Speed    Time      Gap       Laps
 1.  Ryan Hunter-Reay    Andretti/Honda   225.025  39.9955s            113
 2.  Marco Andretti      Andretti/Honda   224.037  40.1719s  +0.1764s  88
 3.  Helio Castroneves   Penske/Chevy     223.635  40.2441s  +0.2486s  96
 4.  Justin Wilson       Coyne/Honda      223.611  40.2484s  +0.2529s  64
 5.  Juan Pablo Montoya  Penske/Chevy     223.395  40.2874s  +0.2919s  117
 6.  Carlos Munoz        Andretti/Honda   223.172  40.3276s  +0.3321s  70
 7.  Mikhail Aleshin     Schmidt/Honda    223.120  40.3371s  +0.3416s  89
 8.  Scott Dixon         Ganassi/Chevy    223.119  40.3373s  +0.3418s  125
 9.  Kurt Busch          Andretti/Honda   222.770  40.4004s  +0.4049s  95
10.  EJ Viso             Andretti/Honda   222.695  40.4140s  +0.4185s  90
11.  Tony Kanaan         Ganassi/Chevy    222.635  40.4249s  +0.4294s  131
12.  Ryan Briscoe        Ganassi/Chevy    222.132  40.5165s  +0.5210s  39
13.  Josef Newgarden     Fisher/Honda     222.082  40.5255s  +0.5300s  105
14.  Simon Pagenaud      Schmidt/Honda    221.862  40.5658s  +0.5703s  96
15.  Will Power          Penske/Chevy     221.735  40.5890s  +0.5935s  67
16.  Oriol Servia        Rahal/Honda      221.529  40.6267s  +0.6312s  53
17.  Alex Tagliani       Fisher/Honda     221.408  40.6489s  +0.6534s  43
18.  JR Hildebrand       Carpenter/Chevy  221.266  40.6750s  +0.6795s  79
19.  Jack Hawksworth     Herta/Honda      221.257  40.6767s  +0.6812s  61
20.  Graham Rahal        Rahal/Honda      221.107  40.7042s  +0.7087s  93
21.  Jacques Villeneuve  Schmidt/Honda    221.101  40.7053s  +0.7098s  70
22.  Takuma Sato         Foyt/Honda       220.891  40.7441s  +0.7486s  66
23.  Sage Karam          Ganassi/Chevy    220.543  40.8083s  +0.8128s  64
24.  Townsend Bell       KV/Chevy         220.307  40.8520s  +0.8565s  88
25.  Pippa Mann          Coyne/Honda      220.206  40.8708s  +0.8753s  44
26.  Sebastien Bourdais  KV/Chevy         220.116  40.8876s  +0.8921s  87
27.  Ed Carpenter        Carpenter/Chevy  219.647  40.9748s  +0.9793s  34
28.  Carlos Huertas      Coyne/Honda      219.246  41.0498s  +1.0543s  54
29.  Martin Plowman      Foyt/Honda       218.852  41.1236s  +1.1281s  48
30.  Charlie Kimball     Ganassi/Chevy    218.229  41.2410s  +1.2455s  17

All drivers use Dallara chassis