Slovakia WTCC: Jose Maria Lopez quickest in free practice
| | |
| --- | --- |
| By Peter Mills | Saturday, May 10th 2014, 11:16 GMT |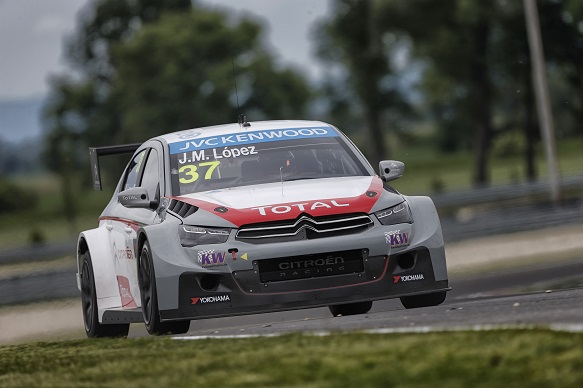 World Touring Car Championship leader Jose Maria Lopez maintained his dominant position in Slovakia by topping both free practice sessions on Saturday.
In the morning's opening session, the Friday test pacesetter was again the only man to lap below 2m06s, recording a quickest lap of 2m05.867s. He then found a 0.4s improvement in the afternoon, although the Citroen racer was still some 0.261s slower than his Friday best.
Campos driver Hugo Valente continued his good recent form as he became the only other driver to break into the 2m05s in FP2. The Frenchman, who had earlier overstepped the limits of his RML-built Chevrolet Cruze and finished the morning session prematurely in the Turn 10 gravel trap, lost remarkably little time indulging in a dramatic slide during his lap of 2m05.718s.
The other Citroens of multiple champion Yvan Muller and World Rally legend Sebastien Loeb took third and fourth in both FP1 and FP2, with the best lap from Norbert Michelisz - the leading Honda runner - splitting the two Citroens over the two sessions.
Gabriele Tarquini managed fifth fastest in FP1, five places ahead of his factory Honda team-mate Tiago Monteiro.
ROAL Motorsport's Tom Chilton recovered from losing a window on Friday to complete the FP1 top six. As in previous practice sessions this year, the Briton left it relatively late before setting a representative time and jumped up the order with seven minutes of the half-hour session remaining.
The change was one of few late movements in the classification, as Lopez's competitors were denied a final opportunity to displace him at the top of the timing screens.
The session was red-flagged and abandoned when an alternator belt problem caused Rob Huff's Lada to slow to a halt by the side of the road with a minute and a half left on the clock.
Huff had further dramas in the final practice session ahead of qualifying this afternoon. The 2012 champion executed a half spin on the approach to one of the circuit's artificial humps, but stopped his Granta short of the Armco.
Follow WTCC qualifying and both races as they happen on AUTOSPORT Race Centre Live this weekend
Practice 1

Pos Driver                Team               Time       Gap    Laps
 1. Jose Maria Lopez      Citroen            2m05.867s            8
 2. Norbert Michelisz     Zengo Honda        2m06.090s  +0.223s   9
 3. Yvan Muller           Citroen            2m06.347s  +0.480s   8
 4. Sebastien Loeb        Citroen            2m06.651s  +0.784s   9
 5. Gabriele Tarquini     Honda              2m06.684s  +0.817s   8
 6. Tom Chilton           ROAL Chevrolet     2m06.761s  +0.894s   8
 7. Mehdi Bennani         Proteam Honda      2m06.960s  +1.093s  11
 8. Hugo Valente          Campos Chevrolet   2m07.400s  +1.533s   8
 9. Tom Coronel           ROAL Chevrolet     2m07.458s  +1.591s   8
10. Tiago Monteiro        Honda              2m07.577s  +1.710s   8
11. Dusan Borkovic        Campos Chevrolet   2m07.688s  +1.821s   8
12. Gianni Morbidelli     Munnich Chevrolet  2m07.769s  +1.902s   9
13. Rene Munnich          Munnich Chevrolet  2m07.897s  +2.030s   9
14. Robert Huff           Lada               2m09.000s  +3.133s   9
15. James Thompson        Lada               2m10.292s  +4.425s   5
16. Mikhail Kozlovskiy    Lada               2m10.351s  +4.484s   9
17. Petr Fulin            Campos SEAT        2m14.106s  +8.239s  10
18. Franz Engstler        Engstler BMW       2m14.144s  +8.277s   9
19. John Filippi          Campos SEAT        2m14.530s  +8.663s  10
20. Pasquale Di Sabatino  Engstler BMW       2m15.367s  +9.500s  10

Practice 2

Pos Driver                Team              Time       Gap    Laps
 1. Jose Maria Lopez     Citroen            2m05.469s           10
 2. Hugo Valente         Campos Chevrolet   2m05.718s  +0.249s   8
 3. Sebastien Loeb       Citroen            2m06.048s  +0.579s  11
 4. Yvan Muller          Citroen            2m06.221s  +0.752s  11
 5. Norbert Michelisz    Zengo Honda        2m06.379s  +0.910s  10
 6. Tom Chilton          ROAL Chevrolet     2m06.487s  +1.018s  10
 7. Tom Coronel          ROAL Chevrolet     2m06.545s  +1.076s  12
 8. Dusan Borkovic       Campos Chevrolet   2m06.589s  +1.120s  10
 9. Rene Munnich         Munnich Chevrolet  2m06.649s  +1.180s   8
10. Mehdi Bennani        Proteam Honda      2m06.666s  +1.197s   9
11. Gabriele Tarquini    Honda              2m06.911s  +1.442s  12
12. Tiago Monteiro       Honda              2m07.341s  +1.872s  10
13. Gianni Morbidelli    Munnich Chevrolet  2m08.598s  +3.129s   7
14. Robert Huff          Lada               2m09.572s  +4.103s   9
15. Mikhail Kozlovskiy   Lada               2m09.991s  +4.522s  11
16. James Thompson       Lada               2m11.903s  +6.434s   4
17. Franz Engstler       Engstler BMW       2m12.943s  +7.474s   9
18. Petr Fulin           Campos SEAT        2m14.286s  +8.817s   9
19. Pasquale Di Sabatino Engstler BMW       2m14.524s  +9.055s   5
20. John Filippi         Campos SEAT        2m15.418s  +9.949s   3