Pau Euro F3: Esteban Ocon beats Max Verstappen in epic pole fight
| | |
| --- | --- |
| By Marcus Simmons | Friday, May 9th 2014, 16:18 GMT |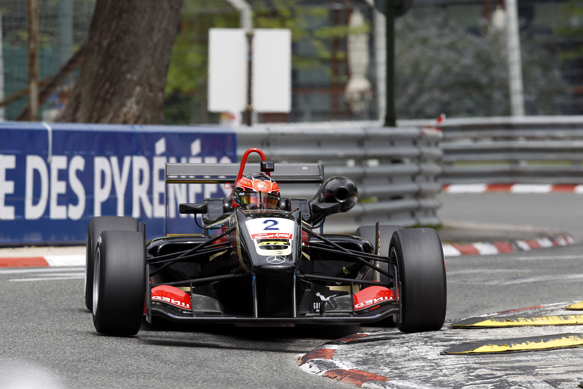 Esteban Ocon pipped Max Verstappen in an epic fight for pole position for the first Formula 3 European Championship race of the weekend at Pau.
The two slugged it out in the even-numbered session, which was twice red-flagged due to accidents - the first when Roy Nissany hit the wall at Pont Oscar, the second when Ed Jones slammed heavily into the tyres at the Foch chicane, although he emerged from the car and walked away.
The session restarted for the final time with four minutes left on the clock, at which point Ocon's Prema Powerteam Dallara-Mercedes held a 0.003s advantage over Verstappen's Van Amersfoort Racing Dallara-Volkswagen.
Ocon then improved his time further, but the acrobatic Verstappen came within 0.024s of equalling that on his final lap.
With the grid being formed by alternate times taken from the two groups, Verstappen will have to start third behind Lucas Auer, who topped the earlier odd-numbered session in his Mucke Motorsport Dallara-Mercedes.
Auer traded times early on with Tom Blomqvist, but the Jagonya Ayam with Carlin Dallara-Volkswagen was beaten to second by Prema's Nicholas Latifi.
With Blomqvist's third and final 10-place grid penalty in the wake of his Hockenheim engine change still yet to be served, he will start down in 16th.
Jordan King (Carlin) and Felix Serralles completed the top five in the odds, although Serralles shunted his Team West-Tec Dallara-Mercedes on the exit of the Foch chicane, bringing out the red flags with just two minutes remaining.
That pretty much ruined the hopes of Felix Rosenqvist, who pitted with a misfire after just one lap, re-emerged with a few minutes remaining and was just building up to a proper lap when the session was red-flagged.
Rosenqvist ended up 11th in the group, one place behind Antonio Fuoco, who is playing catch-up after walling it early in free practice.
Behind Ocon and Verstappen, Jake Dennis did a good job in his Carlin machine to take third of the even numbers, ahead of Prema's Dennis van de Laar and Jones.
Pos  Driver               Team/Car                        Time
 1.  Esteban Ocon         Prema Dallara-Merc              1m10.072s  Group B
 2.  Lucas Auer           Mucke Dallara-Merc              1m10.429s  Group A
 3.  Max Verstappen       Van Amersfoort Dallara-VW       1m10.096s  Group B
 4.  Nicholas Latifi      Prema Dallara-Merc              1m10.559s  Group A
 5.  Jake Dennis          Carlin Dallara-VW               1m10.570s  Group B
 6.  Tom Blomqvist        Carlin Dallara-VW               1m10.634s  Group A*
 7.  Dennis van de Laar   Prema Dallara-Merc              1m10.664s  Group B
 8.  Jordan King          Carlin Dallara-VW               1m10.714s  Group A
 9.  Ed Jones             Carlin Dallara-VW               1m10.887s  Group B
10.  Felix Serralles      West-Tec Dallara-Merc           1m10.769s  Group A
11.  Sean Gelael          Carlin Dallara-VW               1m11.078s  Group B
12.  Antonio Giovinazzi   Carlin Dallara-VW               1m10.840s  Group A
13.  John Bryant-Meisner  Fortec Dallara-Merc             1m11.519s  Group B
14.  Spike Goddard        T-Sport Dallara-NBE             1m10.930s  Group A
15.  Gustavo Menezes      Van Amersfoort Dallara-VW       1m11.577s  Group B
16.  Riccardo Agostini    Eurointernational Dallara-Merc  1m10.960s  Group A
17.  Felipe Guimaraes     Double R Dallara-Merc           1m11.583s  Group B
18.  Mitchell Gilbert     Fortec Dallara-Merc             1m11.035s  Group A
19.  Alexander Toril      T-Sport Dallara-NBE             1m11.654s  Group B
20.  Antonio Fuoco        Prema Dallara-Merc              1m11.097s  Group A
21.  Tatiana Calderon     Jo Zeller Dallara-Merc          1m11.826s  Group B
22.  Felix Rosenqvist     Mucke Dallara-Merc              1m11.137s  Group A
23.  Michele Beretta      Eurointernational Dallara-Merc  1m11.931s  Group B
24.  Jules Szymkowiak     Van Amersfoort Dallara-VW       1m11.571s  Group A
25.  Hector Hurst         West-Tec Dallara-Merc           1m12.693s  Group B
26.  Roy Nissany          Mucke Dallara-Merc              1m13.066s  Group A

* Will take 10-place grid penalty