Williams says F1 risks 'serious damage' over costs
| | |
| --- | --- |
| By Jonathan Noble | Friday, May 9th 2014, 10:11 GMT |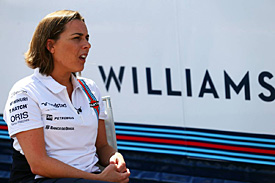 Williams has warned that Formula 1 risks causing 'serious damage' to itself if it does not wake up to the urgency for cost cuts.
With teams still unable to agree on a way forward to bring down budgets - and a divide in the paddock over whether or not a cost cap is the best way of doing it - there is a risk that too little will be done too late.
Williams deputy team principal Claire Williams thinks the situation for the grid is now critical, amid fears that some outfits could be forced out of the sport before enough action is taken.
"As an independent team we've always wanted and will always want cost control in Formula 1 however that comes about," she said, when asked by AUTOSPORT for her views on costs in F1.
"But this conversation has been going on for so long now and we don't seem to have got anywhere, which is really disappointing.
"At the end of the day it is just going to affect the long-term sustainability of our sport and we all have a responsibility to protect our sport - but also protect the teams who have been racing in F1 for a very long time.
"I think we are at a really critical junction now - where if we don't do something about it and take responsibility, then we are going to be causing ourselves some serious damage.
"Williams is working really hard to make sure that we keep pushing and driving the conversation, coming up with proposals that will save costs in F1. But they have to be significant."

Revealed: Formula 1's new cost-cutting plan
Williams understands why some teams still think a cost cap is the best way forward, but she is also realistic to understand that the resistance from big outfits to impose it means there is little prospect of it happening.
"There are teams that are against the cost cap, and that is fine," she explained. "In an ideal world we would all like a cost cap.
"But no one - and certainly not the [big] teams - is going to agree to a cost cap that will bring significant turnaround to a team like us. So you will not win that debate.
"So what is the next thing we can do? Well that is looking at the technical and sporting regulations to see if we can drive down costs through those, and that piece of work is still going on.
"I don't think we have reached an answer on that and it takes a lot of diligence, without it affecting the DNA of the sport.
"We want to see cost control, whatever that comes from, but it has to be significant, and we all have duties as the Strategy Group, F1 Commission or FIA to try to bring costs down in F1, as it is not just sustainable."