Thruxton BTCC: Colin Turkington wins dramatic race three
| | |
| --- | --- |
| By Kevin Turner | Sunday, May 4th 2014, 17:07 GMT |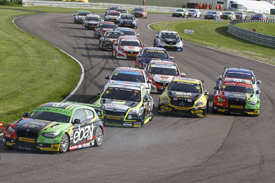 Colin Turkington won a dramatic reversed-grid British Touring Car Championship race at Thruxton.
The bedrock of the WSR BMW driver's success was a superb start from row three, switching to the outside to make it into second behind poleman Fabrizio Giovanardi.
Turkington then got a run out of Village to pass the Motorbase Ford Focus on the blast to Church and started to edge away.
The 2009 champion built up a 1.3-second lead before Ollie Jackson's crashed Proton brought out the safety car.
Turkington nailed the restart and opened up a two-second gap in two laps, only to lose it again when the safety car returned when Simon Belcher spectacularly rolled over the barriers at Church. Like Jackson, he emerged unscathed.
At the final restart, Turkington again got away well, edging away to record his second victory of the season.
Giovanardi was left to defend from team-mate Mat Jackson, up from row three.
Jackson was clearly quicker and made it by with three laps to go, but Turkington was long gone.
Giovanardi was then left to fend off a number of cars for third. Jack Goff's BMR Vauxhall Insignia tried to make it by at the complex, but lost momentum, allowing first Andrew Jordan and then Gordon Shedden through.
Jordan applied pressure to the Ford, but Giovanardi held on to take the first podium of his BTCC return. Just over a second covered the Italian, Jordan, Shedden and Goff in sixth.
Rob Collard and Matt Neal should also have been in the fight, but ended up taking each other out. Neal had touched the BMW on the rise from Allard, and Collard then ran wide into Campbell, taking them both off.
Although Neal emerged ahead, he soon pitted, while Collard ended up an angry 10th.
One of the stars of the race was Aron Smith, whose weekend was badly affected by a crash in free practice. He charged from row eight to seventh, while BMR VW Passat team-mate Alain Menu made it to 11th after starting 19th.
Jason Plato got no points from the race after being an innocent victim in an early skirmish. Collard touched Adam Morgan at the complex on lap one and, as the Mercedes driver caught the slide, he hit Plato, forcing the MG6 into retirement.
Morgan recovered to take an eventual eighth, ahead of Plato's team-mate Sam Tordoff.
Results - 19 laps

Pos Driver               Car                    Time/Gap
 1. Colin Turkington     WSR BMW                30m13.931s
 2. Mat Jackson          Motorbase Ford         +3.272s
 3. Fabrizio Giovanardi  Motorbase Ford         +5.649s
 4. Andrew Jordan        Eurotech Honda         +5.983s
 5. Gordon Shedden       Honda                  +6.232s
 6. Jack Goff            BMR Vauxhall           +6.726s
 7. Aron Smith           BMR VW                 +7.518s
 8. Adam Morgan          Ciceley Mercedes       +7.711s
 9. Sam Tordoff          MG                     +9.418s
10. Rob Collard          WSR BMW                +10.489s
11. Alain Menu           BMR VW                 +10.724s
12. Rob Austin           RAR Audi               +13.206s
13. Tom Ingram           Speedworks Toyota      +13.489s
14. Dave Newsham         AmD Ford               +13.946s
15. Marc Hynes           MG                     +16.183s
16. Hunter Abbott        RAR Audi               +16.831s
17. Lea Wood             Houseman Toyota        +17.083s
18. Martin Depper        Eurotech Honda         +17.467s
19. Aiden Moffat         Moffat Chevrolet       +19.261s
20. Nick Foster          WSR BMW                +20.585s
21. Chris Stockton       BTC Chevrolet          +21.041s
22. Jack Clarke          Motorbase Ford         +27.211s
23. Matt Neal            Honda                  +31.215s
24. Daniel Welch         Welch Proton           +1 lap

Retirements/Not classified

    James Cole           UA Toyota            10 laps
    Simon Belcher        Handy Toyota          9 laps
    Glynn Geddie         UA Toyota             4 laps
    Ollie Jackson        Welch Proton          3 laps
    Jason Plato          MG                    0 laps
    Warren Scott         BMR Vauxhall          0 laps