Thruxton BTCC: Gordon Shedden beats Andrew Jordan in race two
| | |
| --- | --- |
| By Kevin Turner | Sunday, May 4th 2014, 14:10 GMT |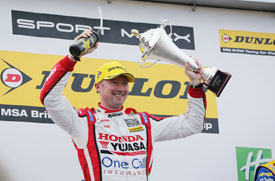 Gordon Shedden won the second British Touring Car race at Thruxton after a hard-fought duel with Andrew Jordan.
Jordan's Eurotech Honda Civic led from pole, while the Civic Tourers of Shedden and Matt Neal attempted to shut the door on the fast-starting WSR BMW of Rob Collard.
Shedden made it into second and then tried divebombing Jordan at Campbell. He made it by but ran wide and dropped to third, and delayed Neal when he returned to the track.
It took Shedden until lap three to pass Collard, getting a better run out of Church and drawing alongside despite a tough defence from the BMW.
Shedden (on 27kg of success ballast) then closed on Jordan (45kg) and applied pressure for several laps. Eventually he got a better run out of Church and was able to take the lead before arriving at the chicane.
Jordan stayed close to Shedden, but the race was cut short when Rob Austin's Audi touched Nick Foster at Church and sent the BMW off the track and over the barriers. Foster walked away, but the race was red-flagged.
Collard thus completed the podium, well clear of Neal, who had spent several corners alongside Mat Jackson's Motorbase Ford Focus before securing fourth.
Jackson nevertheless held off Colin Turkington, much happier with the balance of his BMW after struggling in qualifying.
Jason Plato again struggled for pace in his Triple Eight MG6 and only narrowly held off the Ciceley Mercedes of Adam Morgan and Jack Goff's Vauxhall Insignia.
Returning champion Alain Menu ran eighth early on, but had to serve a drive-through penalty for starting out of position. His BMR VW Passat was one of the fastest cars once he returned to the track, but Menu could only get back to 19th.
Fellow double champion Fabrizio Giovanardi was 10th in his Motorbase Ford.
Results - 13 laps (red flag):

Pos Driver               Car                  Time/Gap
 1. Gordon Shedden       Honda                17m05.908s
 2. Andrew Jordan        Eurotech Honda       +0.319s  
 3. Rob Collard          WSR BMW              +2.221s
 4. Matt Neal            Honda                +5.078s
 5. Mat Jackson          Motorbase Ford       +6.107s
 6. Colin Turkington     WSR BMW              +6.348s
 7. Jason Plato          MG                   +9.068s
 8. Adam Morgan          Ciceley Mercedes     +9.308s
 9. Jack Goff            BMR Vauxhall         +9.571s
10. Fabrizio Giovanardi  Motorbase Ford       +11.976s
11. Sam Tordoff          MG                   +12.107s
12. Tom Ingram           Speedworks Toyota    +12.263s
13. Marc Hynes           MG                   +16.507s
14. Rob Austin           RAR Audi             +17.596s
15. Aron Smith           BMR VW               +18.004s
16. Glynn Geddie         UA Toyota            +20.173s
17. Lea Wood             Houseman Toyota      +20.608s
18. Jack Clarke          Motorbase Ford       +22.503s
19. Alain Menu           BMR VW               +23.176s
20. Martin Depper        Eurotech Honda       +23.500s
21. James Cole           UA Toyota            +27.670s
22. Aiden Moffat         Moffat Chevrolet     +32.237s
23. Dave Newsham         AmD Ford             +35.571s
24. Simon Belcher        Handy Toyota         +38.168s
25. Daniel Welch         Welch Proton         +38.779s
26. Ollie Jackson        Welch Proton         +42.429s

    Retirements/not classified

    Nick Foster          WSR BMW              13laps
    Hunter Abbott        RAR Audi             8 laps
    Warren Scott         BMR Vauxhall         6 laps
    Chris Stockton       BTC Chevrolet        1 lap