Thruxton BTCC: Andrew Jordan takes another pole in Eurotech Honda
| | |
| --- | --- |
| By Kevin Turner | Saturday, May 3rd 2014, 15:46 GMT |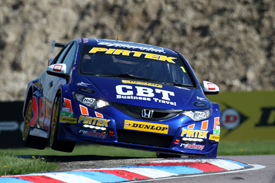 Andrew Jordan qualified on pole at Thruxton for the third consecutive year in the British Touring Car Championship.
Having dominated free practice, the Eurotech Honda Civic driver recorded a 1m16.192s effort early in the session. He failed to improve on that mark, but nobody else was able better it either.
Gordon Shedden's works Honda Civic Tourer was second fastest after the initial runs, but he failed to improve later on.
That allowed team-mate Matt Neal to snatch second with a 1m16.364s in the closing minutes.
Best of the non-Hondas was the Motorbase Ford Focus of Mat Jackson, revelling in a better car after what team boss David Bartrum described as a "eureka moment" ahead of the event.
Impressive rookie Tom Ingram was fifth with a late effort, while joint points leader Jason Plato was only sixth.
The Triple Eight MG6 driver's best lap came towards the end, despite having to follow the two works Civic Tourers through the final chicane.
Team-mate Sam Tordoff was just behind, ahead of the best of the WSR BMWs. Rob Collard was eighth after making extensive set-up changes since practice.
Alain Menu was ninth in his BMR Volkswagen Passat, but his team-mate Aron Smith's efforts were curtailed thanks to a crash in practice that meant he only made it out for the final moments of qualifying.
Adam Morgan's Ciceley Mercedes rounded out the top 10, while Fabrizio Giovanardi was the last car within a second of Jordan in 12th.
Pos  Driver               Team/Car           Time       Gap
 1.  Andrew Jordan        Eurotech Honda     1m16.192s
 2.  Matt Neal            Honda              1m16.364s  +0.172s
 3.  Gordon Shedden       Honda              1m16.488s  +0.296s
 4.  Mat Jackson          Motorbase Ford     1m16.515s  +0.323s
 5.  Tom Ingram           Speedworks Toyota  1m16.605s  +0.413s
 6.  Jason Plato          MG                 1m16.676s  +0.484s
 7.  Sam Tordoff          MG                 1m16.809s  +0.617s
 8.  Rob Collard          WSR BMW            1m16.904s  +0.712s
 9.  Alain Menu           BMR VW             1m16.966s  +0.774s
10.  Adam Morgan          Ciceley Mercedes   1m16.975s  +0.783s
11.  Jack Goff            BMR Vauxhall       1m17.041s  +0.849s
12.  Fabrizio Giovanardi  Motorbase Ford     1m17.046s  +0.854s
13.  Colin Turkington     WSR BMW            1m17.264s  +1.072s
14.  James Cole           UA Toyota          1m17.293s  +1.101s
15.  Nick Foster          WSR BMW            1m17.530s  +1.338s
16.  Martin Depper        Eurotech Honda     1m17.688s  +1.496s
17.  Marc Hynes           MG                 1m17.708s  +1.516s
18.  Dave Newsham         AmD Ford           1m17.725s  +1.533s
19.  Glynn Geddie         UA Toyota          1m17.739s  +1.547s
20.  Warren Scott         BMR Vauxhall       1m17.777s  +1.585s
21.  Rob Austin           RAR Audi           1m17.920s  +1.728s
22.  Hunter Abbott        RAR Audi           1m18.196s  +2.004s
23.  Jack Clarke          Motorbase Ford     1m18.212s  +2.020s
24.  Lea Wood             Houseman Toyota    1m18.268s  +2.076s
25.  Simon Belcher        Handy Toyota       1m18.438s  +2.246s
26.  Ollie Jackson        Welch Proton       1m18.964s  +2.772s
27.  Aiden Moffat         Moffat Chevrolet   1m19.065s  +2.873s
28.  Daniel Welch         Welch Proton       1m19.196s  +3.004s
29.  Chris Stockton       BTC Chevrolet      1m19.289s  +3.097s
30.  Aron Smith           BMR VW