Thruxton BTCC: Andrew Jordan dominates practice
| | |
| --- | --- |
| By Kevin Turner | Saturday, May 3rd 2014, 13:00 GMT |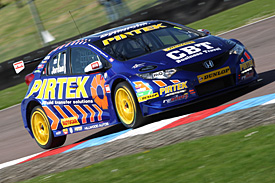 Andrew Jordan dominated free practice for the British Touring Car Championship event at Thruxton.
Having set the pace in practice one, the Eurotech Honda driver recorded a 1m16.314s early in the second session. That was 0.2 seconds faster than the reigning champion's 2013 pole time and Jordan lapped consistently in the 1m17s.
It took some time before anyone approached Jordan's best, but Gordon Shedden (1m16.792s) and Matt Neal (1m17.090s) made it a Honda 1-2-3 with their works Civic Tourers.
Colin Turkington caused a red flag late in the second session, with an off at Allard, but his 1m17.266s from the morning was enough to put his WSR BMW 125i M Sport fourth overall.
Alain Menu was not happy with the balance of his BMR Volkswagen Passat, but his morning practice time was fifth in the combined standings.
Sam Tordoff's Triple Eight MG6 was fourth in practice two and sixth overall, just ahead of the Ciceley-run Mercedes A-class of Adam Morgan.
The Motorbase Fords have looked better so far this weekend, and Mat Jackson was in the top 10 in both sessions, his best being a 1m17.619s.
Shedden had set the pace for the first half of the opening session, at the start of a long run. He was consistently in the 1m18s and recorded a best of 1m17.248s.
That was the benchmark when Jordan went out on track in his Civic. He soon managed a 1m16.818s, and he and Shedden remain the only drivers so far to have broken the 1m17s barrier.
The final minutes of opening practice were marred by two red flags, after separate offs for Rob Collard and Aron Smith.
The pace of joint points leader Jason Plato is still unknown. The MG6 driver concentrated on set-up and longer runs for most of both sessions and Turkington's red flag curtailed a potentially faster effort.
Practice 1

Pos Driver               Car                   Time       Gap     Laps
 1. Andrew Jordan        Eurotech Honda        1m16.818s           16
 2. Gordon Shedden       Honda                 1m17.248s  +0.430s  20
 3. Colin Turkington     WSR BMW               1m17.266s  +0.448s  12
 4. Alain Menu           BMR VW                1m17.474s  +0.656s  15
 5. Mat Jackson          Motorbase Ford        1m17.619s  +0.801s  15
 6. Sam Tordoff          MG                    1m17.751s  +0.933s  21
 7. Matt Neal            Honda                 1m17.846s  +1.028s  20
 8. Adam Morgan          Ciceley Mercedes      1m17.852s  +1.034s  16
 9. Tom Ingram           Speedworks Toyota     1m17.897s  +1.079s  19
10. Fabrizio Giovanardi  Motorbase Ford        1m17.902s  +1.084s  15
11. Nick Foster          WSR BMW               1m18.121s  +1.303s  15
12. Jason Plato          MG                    1m18.165s  +1.347s  17
13. Rob Austin           RAR Audi              1m18.301s  +1.483s  17
14. Jack Goff            BMR Vauxhall          1m18.429s  +1.611s  13
15. Glynn Geddie         UA Toyota             1m18.453s  +1.635s  16
16. Rob Collard          WSR BMW               1m18.636s  +1.818s  12
17. Dave Newsham         AmD Ford              1m18.646s  +1.828s  15
18. Lea Wood             Houseman Toyota       1m18.767s  +1.949s  15
19. Aron Smith           BMR VW                1m18.777s  +1.959s  13
20. Marc Hynes           MG                    1m18.982s  +2.164s  16
21. Warren Scott         BMR Vauxhall          1m19.002s  +2.184s  16
22. Martin Depper        Eurotech Honda        1m19.249s  +2.431s  18
23. Simon Belcher        Speedworks Toyota     1m19.270s  +2.452s  15
24. Daniel Welch         Welch Proton          1m19.508s  +2.690s  17
25. Olile Jackson        Welch Proton          1m19.668s  +2.850s  12
26. Jack Clarke          Motorbase Ford        1m19.685s  +2.867s  20
27. Hunter Abbott        RAR Audi              1m19.778s  +2.960s  14
28. James Cole           UA Toyota             1m20.663s  +3.845s  11
29. Aiden Moffat         Moffat Chevrolet      1m22.561s  +5.743s  12
30. Chris Stockton       BTC Chevrolet         no time              4

Practice 2

Pos Driver               Car                   Team       Gap     Laps
 1. Andrew Jordan        Eurotech Honda        1m16.314s          17
 2. Gordon Shedden       Honda                 1m16.792s  +0.478s 19
 3. Matt Neal            Honda                 1m17.060s  +0.746s 16
 4. Sam Tordoff          MG                    1m17.473s  +1.159s 20
 5. Adam Morgan          Ciceley Mercedes      1m17.573s  +1.259s 19
 6. Jack Goff            BMR Vauxhall          1m17.667s  +1.353s 19
 7. Tom Ingram           Speedworks Toyota     1m17.673s  +1.359s 20
 8. Glynn Geddie         UA Toyota             1m17.740s  +1.426s 19
 9. Mat Jackson          Motorbase Ford        1m17.822s  +1.508s 24
10. Colin Turkington     WSR BMW               1m17.848s  +1.534s  9
11. Nick Foster          WSR BMW               1m17.852s  +1.538s 22
12. Fabrizio Giovanardi  Motorbase Ford        1m18.110s  +1.796s 16
13. Alain Menu           BMR VW                1m18.158s  +1.844s 15
14. Dave Newsham         AmD Ford              1m18.172s  +1.858s 14
15. Warren Scott         BMR Vauxhall          1m18.482s  +2.168s 18
16. Rob Collard          WSR BMW               1m18.502s  +2.188s 21
17. Jason Plato          MG                    1m18.518s  +2.204s 18
18. Martin Depper        Eurotech Honda        1m18.568s  +2.254s 20
19. James Cole           UA Toyota             1m18.626s  +2.312s 18
20. Hunter Abbott        RAR Audi              1m18.815s  +2.501s 21
21. Marc Hynes           MG                    1m18.996s  +2.682s 19
22. Jack Clarke          Motorbase Ford        1m19.055s  +2.741s 23
23. Rob Austin           RAR Audi              1m19.257s  +2.943s 19
24. Lea Wood             Houseman Toyota       1m19.288s  +2.974s 19
25. Aiden Moffat         Moffat Chevrolet      1m19.352s  +3.038s 20
26. Daniel Welch         Welch Proton          1m19.823s  +3.509s 21
27. Olile Jackson        Welch Proton          1m19.919s  +3.605s 20
28. Simon Belcher        Speedworks Toyota     1m20.127s  +3.813s 16
29. Chris Stockton       BTC Chevrolet         1m22.304s  +5.990s  5