Robb Holland to miss Thruxton BTCC round after Donington crash
| | |
| --- | --- |
| By Kevin Turner | Friday, May 2nd 2014, 10:24 GMT |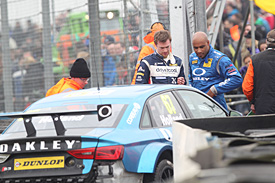 British Touring Car racer Robb Holland will miss the Thruxton round this weekend, but fellow accident victim James Cole will make the grid.
Holland's Rotek Audi S3 and the United Autosports Toyota Avensis crashed heavily after making contact at the top of the Craner Curves in race two at Donington Park last month.
Both squads faced a race against time and Rotek has been forced to miss Thruxton. The team had finished building the car just prior to the first round at Brands Hatch.
"We made a collective decision not to overload on spares until finalising our planned upgrades programme after Thruxton, so the timing of the accident makes things really difficult to take," said Holland.
"We're all really disappointed to miss Thruxton but it's just one of those things and we need to focus on the upgrades and our planned test programme prior to Oulton Park."
This year, all entries are obliged to contest all BTCC events unless in cases of force majeure. Organiser TOCA has confirmed 'force majeure' in this instance and the team will not face any penalty.
Cole's Avensis was also severely damaged, but UA has been loaned a shell by fellow Toyota squad Speedworks and Cole will be on the grid.
"I've shaken the car down and we're ready to go," said Cole.
"We obviously have to say thank you to Tony Hughes and everyone at Speedworks for loaning us the shell, but I also have to congratulate all at United Autosports for the incredible effort put in."
Team boss Richard Dean added: "The car was completely stripped down and the parts we could use again, such as the gearbox, some suspension components and electrical parts were salvaged.
"We had to have a new engine as this also suffered substantial damage and obviously a new shell, as the crash had caused damage to the rollcage and all the suspension pick up points, even the throttle pedal had broken in two!
"Now hopefully we can work on getting both cars consistently in the points and start challenging for top-10 results."