Indianapolis road course IndyCar test: Ganassi's Scott Dixon on top
| | |
| --- | --- |
| By Mark Glendenning | Thursday, May 1st 2014, 08:04 GMT |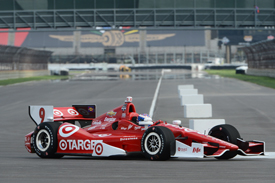 Scott Dixon praised the Indianapolis Motor Speedway road course layout after setting the fastest time in Wednesday's IndyCar open test.
The reigning series champion completed 82 laps, setting his fastest time of 1m09.5969s at the end of his run in the second session to beat Ganassi team-mate Ryan Briscoe by 0.05 seconds.
The circuit has been altered from its former Formula 1 configuration for IndyCar's first race on the famous venue's road layout on May 10.
"The track was so much fun today," Dixon said. "It's a demanding circuit.
"The cars all seem very close, which is going to create some fantastic racing.
"These big straights... I think Brazil is probably the only other time we've had a straight a similar length like this.
"Really impressed with how everything's gone. Even the kerbing, they've done a fantastic job."

More Indy road course test shots in the AUTOSPORT news gallery
Schmidt's Simon Pagenaud was third-fastest and quickest of the Honda-powered drivers, and echoed Dixon's enthusiasm for the layout.
"It's the smoothest track we go to," he said. "It's enjoyable. Quite a bit of high-speed corners, medium-speed corners, a lot of braking, which is going to be good for racing.
"I enjoyed it. I think the rhythm of the track is enjoyable as a driver. You get pretty busy in the car during the day. That was a lot of fun today."
Helio Castroneves and Ryan Hunter-Reay rounded out the top five on a day interrupted by a clutch of red flags, including one that marked the end of Pagenaud's team-mate Mikhail Aleshin's running early in the second session.
Rahal Letterman Lanigan's Oriol Servia also prompted a stoppage when his car came to a halt out on the track, while his team-mate Graham Rahal's day was curtailed by an engine problem.
Pos  Driver              Team/Engine      Time        Gap       Laps
 1.  Scott Dixon         Ganassi/Chevy    1m09.5969s            82
 2.  Ryan Briscoe        Ganassi/Chevy    1m09.6558s  +0.0589s  67
 3.  Simon Pagenaud      Schmidt/Honda    1m09.7544s  +0.1575s  78
 4.  Helio Castroneves   Penske/Chevy     1m10.0209s  +0.4240s  74
 5.  Ryan Hunter-Reay    Andretti/Honda   1m10.0237s  +0.4268s  64
 6.  Will Power          Penske/Chevy     1m10.0260s  +0.4291s  76
 7.  Justin Wilson       Coyne/Honda      1m10.0388s  +0.4419s  55
 8.  Juan Pablo Montoya  Penske/Chevy     1m10.0983s  +0.5014s  71
 9.  James Hinchcliffe   Andretti/Honda   1m10.1387s  +0.5418s  62
10.  Jack Hawksworth     Herta/Honda      1m10.1566s  +0.5597s  76
11.  Sebastien Bourdais  KV/Chevy         1m10.2344s  +0.6375s  65
12.  Takuma Sato         Foyt/Honda       1m10.2792s  +0.6823s  63
13.  Charlie Kimball     Ganassi/Chevy    1m10.3347s  +0.7378s  76
14.  Marco Andretti      Andretti/Honda   1m10.3401s  +0.7432s  47
15.  Oriol Servia        Rahal/Honda      1m10.3473s  +0.7054s  60
16.  Sebastian Saavedra  KV/Chevy         1m10.3601s  +0.7632s  60
17.  Carlos Munoz        Andretti/Honda   1m10.4388s  +0.8419s  59
18.  Tony Kanaan         Ganassi/Chevy    1m10.4392s  +0.8423s  75
19.  Franck Montagny     Andretti/Honda   1m10.4860s  +0.8891s  45
20.  Carlos Huertas      Coyne/Honda      1m10.6464s  +1.0495s  44
21.  Mike Conway         Carpenter/Chevy  1m10.6953s  +1.0984s  66
22.  Josef Newgarden     Fisher/Honda     1m10.9278s  +1.3309s  54
23.  Graham Rahal        Rahal/Honda      1m11.7026s  +2.1057s  41
24.  Martin Plowman      Foyt/Honda       1m11.7311s  +2.1342s  47
25.  Mikhail Aleshin     Schmidt/Honda    1m12.2211s  +2.6242s  25