Alain Prost predicts Renault will catch Mercedes in F1 engine fight
| | |
| --- | --- |
| By Charles Bradley and Jonathan Noble | Monday, April 28th 2014, 16:26 GMT |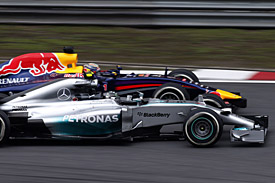 Alain Prost thinks the engine battle between Renault and Mercedes could be transformed in a few races, opening up the fight for victories in Formula 1.
Although Renault had a troubled time in pre-season testing and is still playing catch-up against Mercedes, the French car manufacturer has made good progress in recent races.
Prost, who is an ambassador for Renault, believes that the next few weeks will not only help it close up the gap, but could result in Mercedes' dominance in 2014 coming under threat.
"Renault has always accepted the competition and the challenge," Prost told AUTOSPORT about the company's start to the campaign.
"They were a little bit late into the programme, and maybe Mercedes was much in advance. That's part of the game.
"The fact that they [Mercedes] have done the chassis and the engine at the same time, with that level of integration, can make the difference. We need to accept it.
"But the most important thing is to work and make progress as soon as possible. Let's wait and see another two or three races and it could be quite different.
"Renault won the world championship four times [with Red Bull from 2010-2013], and now they are the outsiders, so it's also good for the championship."
As well as planned updates to the Renault engine expected to lift its performance, the French car manufacturer's hopes of success will be boosted by the fact that the next events are taking place on tracks that are not so dependent on power.
Barcelona and Monaco put a premium on downforce, which is an area where Renault's partner Red Bull has excelled so far this season.