Nico Hulkenberg didn't expect his strong start to 2014 F1 season
| | |
| --- | --- |
| By Ben Anderson | Monday, April 28th 2014, 14:09 GMT |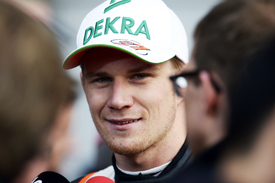 Nico Hulkenberg is surprised by how competitive his Force India team has been in the early part of the new Formula 1 season.
The highly rated German rejoined Vijay Mallya's squad from Sauber over the winter and has finished inside the top six in each of the first four F1 races of 2014.
Hulkenberg lies a career-best fourth in the current championship, after holding off Valtteri Bottas's Williams to finish sixth in the recent Chinese Grand Prix.
He says no one could have expected Force India to make such a strong start to the campaign.
"I didn't expect it and I don't think you could have expected it as well," Hulkenberg said.
"Winter testing was good, but not that good.
"To come away with so many points is a big achievement."
Hulkenberg urged the Silverstone-based squad, which operates on a significantly smaller budget than the leading teams, to do its best to keep up in the development race and avoid slipping back as the season wears on.
"I don't see any obvious reason why we shouldn't be able to carry the good momentum, but like every year in Formula 1 it's pretty much a development race - you've got to keep bringing performance," Hulkenberg added.
"Maybe at the later point in the season the big teams with the bigger budgets will have more of an advantage, but I see ourselves in a very good position."
HOW HULKENBERG'S START TO 2014 COMPARES
Hulkenberg's current tally of 36 points makes 2014 by far his best start to an F1 season to date, as the table below shows:
Situation after four races:

Year  Team         Points  Position
2014  Force India    36      4th
2013  Sauber         5       14th
2012  Force India    2       16th
2010  Williams       1       15th

2011: Force India reserve, did not race