Analysis: Rally GB chief Andrew Coe departs
| | |
| --- | --- |
| By David Evans | Monday, April 28th 2014, 13:42 GMT |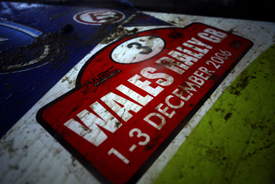 Andrew Coe's surprise departure from Rally GB and the MSA might have come as a shock, but there were those who predicted this as far back as 2009.
When the Welsh Assembly Government terminated its contract with the Coe-run Rally GB in 2009, many felt his position was untenable.
The event and its long-term sponsor were heading for court following speculation that Rally GB would be dropped from the world championship calendar.
The WAG declared its contract termination legal because was Coe unable to confirm Rally GB's status as an annual event - as stipulated in the agreement.
The low point of this drama came at the 2009 launch of Rally GB, when a last-minute deal with the WAG went south on the morning the organisers met with the press.
Signs directing media to the launch read 'Wales Rally GB' but the second version of the press kit produced that day made no mention of any backing from the principality. Eventually, a deal was done and Wales remained on board.
There was further criticism of Coe in 2012, when he presided over the lowest entry ever for Britain's round of the World Rally Championship. Just 31 crews started the event.
It wasn't all bad news for Coe, he also ensured Britain became the first country to run both WRC and Intercontinental Rally Championship rounds.
Iain Campbell and his team ran a spectacular Rally of Scotland for three years until the tourism cash ran out and a new backer could not be found.
Without Wales's long-term support of Rally GB, it is quite possible Britain's round of the WRC would have gone the way of the Rally of Scotland. Instead, last year Coe delivered a commercially improved Rally GB off the back of the event's consistent sporting pedigree.
While there is precious little time for the new Rally GB boss to make his mark on this year's event, it is worth considering that this time next year the current three-year deal with Wales will almost be up.
More immediately, there's the future of the British Rally Championship - currently in a tendering process - to be decided on.