Rally GB boss Andrew Coe to leave organisation of WRC event
| | |
| --- | --- |
| By David Evans | Monday, April 28th 2014, 11:02 GMT |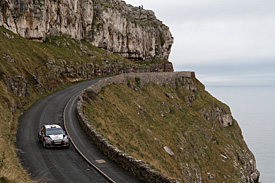 Rally GB chief executive Andrew Coe will leave the organisation at the end of this week.
While the official reason for Coe's departure has not been made public, MSA chairman Alan Gow has hinted at an internal restructuring for the organisers of Britain's round of the World Rally Championship.
Gow said: "I would like to place on record our thanks to Andrew for everything he has done for IMS [the commercial arm of British motorsport's governing body], for British rallying and most especially for Wales Rally GB, and wish him every success in the future.

AUTOSPORT analysis: What Coe's exit means for Rally GB
"Andrew has done a great job at IMS for many years and has given loyal service to British motorsport throughout, overcoming some difficult and challenging times, both for the sport and the economy.
"Last year's Wales Rally GB was undoubtedly one of the highlights of the event in the past decade.
"However now is the time for this organisation to rationalise and utilise the great resources and expertise that exist within the MSA group, in order to create a more cohesive and dynamic company structure."
Coe, who has been in charge of Rally GB since 2001, said: "I have thoroughly enjoyed my 13 years as chief executive of IMS and have had the particular privilege of working with many talented and professional people.
"While I will miss their company and our interaction, I am proud of what has been achieved and now very much look forward to the next challenge in my career."
Coe's successor as IMS chief executive has yet to be named.