Barber IndyCar: James Hinchliffe fastest in final practice
| | |
| --- | --- |
| By Mark Glendenning | Saturday, April 26th 2014, 15:57 GMT |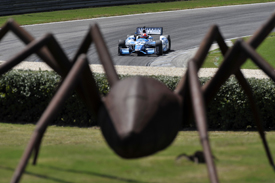 James Hinchcliffe used his final flying lap to go fastest in the third IndyCar practice session at Barber.
The Canadian, whose Andretti team-mate Ryan Hunter-Reay topped both Friday sessions, became the first driver of the weekend to dip below the 1m08s barrier when he delivered a 1m07.9206s with just one minute left on the clock.
Up to that point the benchmark had been Sebastien Bourdais, whose fastest time had remained unbeaten for nearly half an hour before Hinchliffe improved on it by 0.1 seconds.
But there was little to separate any of the frontrunners: the top 18 drivers were covered by just one second.
Scott Dixon recovered from an early trip through the grass to go third-fastest ahead of Helio Castroneves, who caused the only red flag when his car stopped on the track at the session's halfway point.
His Penske team-mate Will Power also survived a scare on his way to fifth-fastest; the Australian escaping a lurid spin that almost deposited him into the wall.
It was a tough session for Tony Kanaan who finished the session down in 21st place, with the Ganassi team reporting an ongoing struggle to find an optimal set-up.
Follow the MotoGP and IndyCar races as they happen on AUTOSPORT Race Centre Live from 17:30 UK time on Sunday April 27
Pos Driver              Team/Engine       Time        Gap      Laps
 1. James Hinchcliffe   Andretti/Honda    1m07.9206s            15 
 2. Sebastien Bourdais  KV/Chevy          1m08.0290s  +0.1084s  19 
 3. Scott Dixon         Ganassi/Chevy     1m08.0916s  +0.1710s  14 
 4. Helio Castroneves   Penske/Chevy      1m08.1611s  +0.2405s  21 
 5. Will Power          Penske/Chevy      1m08.1670s  +0.2464s  22 
 6. Ryan Hunter-Reay    Andretti/Honda    1m08.1956s  +0.2750s  14 
 7. Simon Pagenaud      Schmidt/Honda     1m08.2083s  +0.2877s  20 
 8. Josef Newgarden     Fisher/Honda      1m08.2891s  +0.3685s  17 
 9. Takuma Sato         Foyt/Honda        1m08.3245s  +0.4039s  23 
10. Ryan Briscoe        Ganassi/Chevy     1m08.3774s  +0.4568s  16 
11. Carlos Munoz        Andretti/Honda    1m08.4454s  +0.5248s  17 
12. Juan Pablo Montoya  Penske/Chevy      1m08.5097s  +0.5891s  17 
13. Justin Wilson       Coyne/Honda       1m08.5359s  +0.6153s  20 
14. Charlie Kimball     Ganassi/Chevy     1m08.6198s  +0.6992s  19 
15. Graham Rahal        Rahal/Honda       1m08.6229s  +0.7023s  20 
16. Mikhail Aleshin     Schmidt/Honda     1m08.6785s  +0.7579s  17 
17. Oriol Servia        Rahal/Honda       1m08.7458s  +0.8252s  18 
18. Mike Conway         Carpenter/Chevy   1m08.7848s  +0.8642s  20 
19. Marco Andretti      Andretti/Honda    1m08.9432s  +1.0226s  10 
20. Sebastian Saavedra  KV/Chevy          1m09.0011s  +1.0805s  18 
21. Tony Kanaan         Ganassi/Chevy     1m09.0241s  +1.1035s  13 
22. Jack Hawksworth     Herta/Honda       1m09.2564s  +1.3358s  17 
23. Carlos Huertas      Coyne/Honda       1m09.2878s  +1.3672s  19