Mercedes could rethink Formula 1 team orders stance if rivals close
| | |
| --- | --- |
| By Ben Anderson | Thursday, April 24th 2014, 12:22 GMT |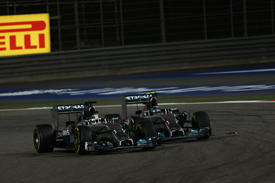 Mercedes boss Toto Wolff has hinted Formula 1 title rivals Lewis Hamilton and Nico Rosberg will be reined back in battle if the opposition closes the gap.
F1's currently-dominant team permitted its two drivers to engage in a classic scrap for victory in the Bahrain Grand Prix, in which they repassed each other several times before Hamilton took victory.
Mercedes received praise for not subjecting its drivers to team orders, beyond an instruction from race team chief Paddy Lowe not to take each other out.

OPINION: Don't slam Mercedes if it all goes wrong
But Wolff suggested the squad's policy would probably have to shift if more drivers started to become a threat to Rosberg and Hamilton, who have dominated thus far.
"Bahrain was particular because our package worked very well and we had quite a competitive advantage there, so it's easier to take a decision for the sake of racing because you know you're going to have quite a margin to the car in third place," Wolff explained.
"The more narrow that margin gets the more you have to look out for competitors, and our rule number one is that the team-mate is not enemy number one, the competition is, and there might be situations in the race when you have to consider that fact.
"You cannot [afford to] lose lots of time in a battle if you have your enemy right up your back."
MERCEDES' MARGIN OVER RIVALS
Mercedes has now scored three straight one-two finishes, with Hamilton leading Rosberg home in Malaysia, Bahrain and China. The table below shows the gap back to third place each time.
Race      Gap between Mercs  3rd to 1st deficit
Malaysia  17.313s            Vettel, +24.534s
Bahrain   1.085s             Perez, +24.067s
China     18.062s            Alonso, +23.604s