Simon Pagenaud warns IndyCar driving standards 'will get crazy'
| | |
| --- | --- |
| By Mark Glendenning | Thursday, April 24th 2014, 07:36 GMT |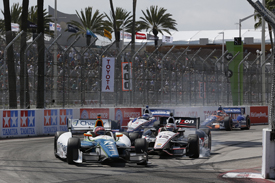 Simon Pagenaud hopes that IndyCar officials will set clearer boundaries for what will be tolerated on the track at Barber this weekend after a chaotic Long Beach race.
The Frenchman believes that he could have won the last round had he not been hit by Will Power; a move that forced him to pit for a new front wing.
Pagenaud's incident was one of several during the Long Beach race, and he warned that similar scenes could await in Alabama unless the drivers clearly understand what they can get away with.

Long Beach report: Conway wins wild race
"If [Barber] is similar to Long Beach in terms of rules, it's going to get pretty crazy pretty quick," said Pagenaud, who eventually rallied back to fifth after his mishap.
"We are racers. We all want to win. We all try to get into a gap that's sometimes too small. There needs to be some regulation sometimes that tells us what we can or cannot do.
"Right now, to be very honest with you, I don't know what's allowed or what is not allowed. It's still a very grey area.
"I'm hopeful that it will be fixed for Barber and we will have a much better understanding."
PAGENAUD: POWER'S MOVE SET THE TONE
Power's attempts to extend an olive branch to the Frenchman in the immediate aftermath of the Long Beach race were rejected, and Pagenaud believes that the pair are set for a fierce on-track rivalry over the remainder of the season.
"I'm still disappointed in his actions, although I understand racing can be tough sometimes," Pagenaud said.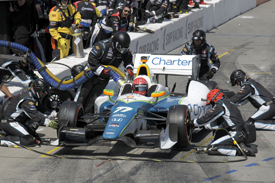 "I may make the same mistake someday, may not be proud of myself. But it's a shame. It really ruined my race.
"I guess he set the tone for the rest of the season. We're going to be racing hard against each other.
"I'm pleased actually that we're that high up in the championship to be chasing him. That's what I'm going to do. I'm going to try to be racing hard. I'll try to be as clean as I can be."
IndyCar has introduced a new officiating system this year, with race director Beaux Barfield relinquishing sole control over penalties in favour of a three-steward panel.
Barfield has also pledged to follow a less-intrusive form of officiating this season, placing more responsibility on the drivers to self-regulate.
VIDEO: LONG BEACH RACE HIGHLIGHTS