Donington BTCC: Sam Tordoff fastest in free practice
| | |
| --- | --- |
| By Kevin Turner | Saturday, April 19th 2014, 12:28 GMT |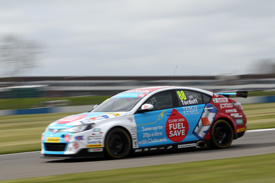 Sam Tordoff led the British Touring Car pack during free practice at Donington Park.

Aron Smith's BMR VW Passat set the pace in the first session, recording two times faster than Gordon Shedden's Honda Civic Tourer in second.

Smith then dipped under the 1m10s barrier with a 1m09.874s in the second session. That compares favourably with Shedden's 2013 pole time of 1m10.074s.

But Tordoff's Triple Eight MG6 then went even quicker, first recording a 1m09.794s, then leaving the benchmark at 1m09.684s in the final 10 minutes.

Smith's double BTCC champion team-mate Alain Menu failed to match the Irishman in either session, but ended up third quickest with 1m10.038s in FP2.

Jason Plato made it two MGs in the top four, while Adam Morgan's Mercedes improved in the final moments of FP2 to go fifth with 1m10.188s.

After being second fastest in FP1, Shedden only improved by 0.005s later and ended up sixth.

Championship leader Andrew Jordan, who will have to carry 45kg of success ballast in qualifying and race one, was seventh with 1m10.242s in his Eurotech Civic.

Colin Turkington was pleased with his WSR BMW in FP1. He didn't improve in FP2, but his morning effort of 1m10.258s was good enough for eighth quickest across the two sessions.

Former British F3 champion Marc Hynes showed much improvement over his Brands Hatch form to go ninth fastest.
Fabrizio Giovanardi and Matt Neal were next, meaning that all seven of the BTCC champions in the field were in the top 11.

A number of cars appeared to be marginal when it came to the new UK track limits, which could result in penalties when it comes to qualifying.

Several drivers were warned and the Audi A4s of Rob Austin and Hunter Abbott were black-flagged.
Follow the BTCC and WTCC races, Auto GP race two and the WEC season opener as they happen on Race Centre Live from 11:30am UK time on Sunday April 20
Practice 1                                                             
                                                                       
Pos Driver               Car                  Time       Gap      Laps 
 1. Aron Smith           BMR VW               1m10.041s            22  
 2. Gordon Shedden       Honda                1m10.215s  +0.174s   20  
 3. Colin Turkington     WSR BMW              1m10.258s  +0.217s   20  
 4. Matt Neal            Honda                1m10.406s  +0.365s   23  
 5. Marc Hynes           MG                   1m10.435s  +0.394s   21  
 6. Jason Plato          MG                   1m10.453s  +0.412s   18  
 7. Sam Tordoff          MG                   1m10.504s  +0.463s   23  
 8. Jack Goff            BMR Vauxhall         1m10.586s  +0.545s   22  
 9. Alain Menu           BMR VW               1m10.647s  +0.606s   14  
10. Adam Morgan          Ciceley Mercedes     1m10.709s  +0.668s   21  
11. James Cole           UA Toyota            1m10.801s  +0.760s   19  
12. Andrew Jordan        Eurotech Honda       1m10.844s  +0.803s   20  
13. Rob Collard          WSR BMW              1m10.912s  +0.871s   19  
14. Dave Newsham         AmD Ford             1m11.227s  +1.186s   23  
15. Warren Scott         BMR Vauxhall         1m11.243s  +1.202s   18  
16. Fabrizio Giovanardi  Motorbase Ford       1m11.270s  +1.229s   18  
17. Tom Ingram           Speedworks Toyota    1m11.288s  +1.247s   17  
18. Hunter Abbott        RAR Audi             1m11.390s  +1.349s   19  
19. Nick Foster          WSR BMW              1m11.453s  +1.412s   21  
20. Glynn Geddie         UA Toyota            1m11.599s  +1.558s   17  
21. Martin Depper        Eurotech Honda       1m11.661s  +1.620s   24  
22. Mat Jackson          Motorbase Ford       1m11.751s  +1.710s   16  
23. Rob Austin           RAR Audi             1m11.755s  +1.714s   19  
24. Robb Holland         Rotek Audi           1m12.598s  +2.557s   21  
25. Chris Stockton       BTC Chevrolet        1m12.930s  +2.889s   18  
26. Ollie Jackson        Welch Proton         1m13.361s  +3.320s   13  
27. Simon Belcher        Handy Toyota         1m13.402s  +3.361s   13  
28. Aiden Moffat         Moffat Chevrolet     1m13.624s  +3.583s   17  
29. Jack Clarke          Motorbase Ford       1m16.843s  +6.802s   12  
30. Lea Wood             Houseman Toyota      1m21.183s  +11.142s  2   
                                                                       
Practice 2                                                             
                                                                       
Pos Driver               Car                  Time       Gap      Lap  
 1. Sam Tordoff          MG                   1m09.684s           18   
 2. Aron Smith           BMR VW               1m09.874s  +0.190s  21   
 3. Alain Menu           BMR VW               1m10.038s  +0.354s  21   
 4. Jason Plato          MG                   1m10.094s  +0.410s  18   
 5. Adam Morgan          Ciceley Mercedes     1m10.188s  +0.504s  25   
 6. Gordon Shedden       Honda                1m10.210s  +0.526s  22   
 7. Andrew Jordan        Eurotech Honda       1m10.242s  +0.558s  23   
 8. Marc Hynes           MG                   1m10.334s  +0.650s  24   
 9. Fabrizio Giovanardi  Motorbase Ford       1m10.368s  +0.684s  21   
10. Martin Depper        Eurotech Honda       1m10.447s  +0.763s  22   
11. Tom Ingram           Speedworks Toyota    1m10.478s  +0.794s  24   
12. Matt Neal            Honda                1m10.506s  +0.822s  21   
13. Rob Collard          WSR BMW              1m10.559s  +0.875s  22   
14. Jack Goff            BMR Vauxhall         1m10.742s  +1.058s  23   
15. Mat Jackson          Motorbase Ford       1m10.753s  +1.069s  19   
16. Colin Turkington     WSR BMW              1m10.774s  +1.090s  21   
17. Dave Newsham         AmD Ford             1m10.787s  +1.103s  18   
18. Rob Austin           RAR Audi             1m10.915s  +1.231s  22   
19. Warren Scott         BMR Vauxhall         1m10.928s  +1.244s  17   
20. Nick Foster          WSR BMW              1m11.067s  +1.383s  21   
21. Glynn Geddie         UA Toyota            1m11.128s  +1.444s  20   
22. James Cole           UA Toyota            1m11.162s  +1.478s  17   
23. Hunter Abbott        RAR Audi             1m11.432s  +1.748s  18   
24. Robb Holland         Rotek Audi           1m11.480s  +1.796s  21   
25. Chris Stockton       BTC Chevrolet        1m11.825s  +2.141s  22   
26. Lea Wood             Houseman Toyota      1m11.829s  +2.145s  19   
27. Simon Belcher        Handy Toyota         1m11.948s  +2.264s  21   
28. Aiden Moffat         Moffat Chevrolet     1m12.245s  +2.561s  18   
29. Ollie Jackson        Welch Proton         1m12.509s  +2.825s  13   
30. Jack Clarke          Motorbase Ford       1m13.283s  +3.599s  15   
31. Dan Welch            Welch Proton         no time set         3