Chinese GP: Jenson Button pins Q2 exit on McLaren downforce deficit
| | |
| --- | --- |
| By Jonathan Noble | Saturday, April 19th 2014, 11:37 GMT |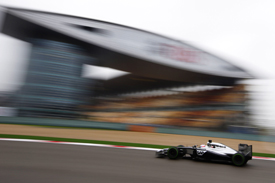 Jenson Button says McLaren's Q2 exit at the Chinese Grand Prix can be traced back to a lack of downforce.
Neither he nor team-mate Kevin Magnussen managed to get into the top 10 in qualifying for round four of the 2014 Formula 1 season after suffering with a lack of grip in the wet conditions.
"I think this is a tough track anyway because of the cold temperatures we have had this weekend, and then you throw the rain into it," he said.
"We are struggling and doing everything we can to get the tyres working.
"But I think overall grip is lacking in terms of downforce and, when you have that sort of issue, it is a lot easier to get rear temperature because you can spin the tyres, whereas fronts you can't.
"It is very, very tricky - and that is one of the main reasons why I struggled today. So it is a shame to not get into Q3.
"It was a tough day but also a useful day to see where our weaknesses are.
"I am looking forward to tomorrow. There are a few cars that we know we can't beat but there are lots of cars that we know we can race. We can get a good result."
The wet weather struggles have left Button hoping that the sun returns on Sunday.
"I definitely want it dry - we will have a very tough afternoon if it is wet," he said. "In the dry because it is cold it is still tricky, but we are able to just put the tyres in a good position. And I think we can race well."
CLUTCH PROBLEMS RESOLVED
McLaren is confident that the clutch issues that put both Button and Magnussen out of the Bahrain Grand Prix have now been sorted.
Racing director Eric Boullier said: "It was trying to implement a bit too fast a new clutch mapping to make the shifting better.
"Everything has been done properly. We had two days of testing in Bahrain so instead of backing off completely, we found a solution inbetween and everything is fine today."