Silverstone European F3: Max Verstappen leads free practice
| | |
| --- | --- |
| By Marcus Simmons | Friday, April 18th 2014, 10:07 GMT |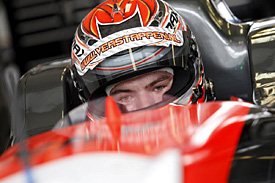 Car-racing newcomer Max Verstappen led a rookie clean sweep of the top three in free practice for the opening round of the Formula 3 European Championship at Silverstone.
The World Karting champion, whose only car races came in the Florida Winter Series earlier this year, edged out ex-Formula Renault aces Esteban Ocon and Antonio Fuoco at the end of the 80 minutes, in which the trio of new boys traded fastest times.
The Van Amersfoort Racing Dallara-Volkswagen of Verstappen, the 16-year-old son of ex-Formula 1 racer Jos, pipped Lotus F1 junior Ocon by 0.082 seconds, with Ferrari protege Fuoco less than a tenth further adrift.
All three drivers have never raced at Silverstone, but learned the circuit last month in Formula Renault machinery.
"I tested here for two days, but of course the Formula 3 car is a bit different," said Verstappen.
"Already the first session this morning was very good [Verstappen was third in this session, behind Prema Powerteam duo Fuoco and Ocon] but the tyre degradation was high - maybe because I was pushing hard to learn the track.
"After that we studied the data and it worked very well in the second session."
Reigning European F3 Open champion Ed Jones led the Carlin sextet in fourth place, with team-mates Jordan King and Tom Blomqvist directly behind him.
Meanwhile, Mucke Motorsport racers Felix Rosenqvist and Lucas Auer ended the sessions a lowly 16th and 17th respectively.
Pos Driver               Car                                  Time       Gap
 1. Max Verstappen       Van Amersfoort Dallara-VW            1m51.716s
 2. Esteban Ocon         Prema Dallara-Mercedes               1m51.798s  +0.082s
 3. Antonio Fuoco        Prema Dallara-Mercedes               1m51.863s  +0.147s
 4. Ed Jones             Carlin Dallara-VW                    1m52.040s  +0.324s
 5. Jordan King          Carlin Dallara-VW                    1m52.082s  +0.366s
 6. Tom Blomqvist        Carlin Dallara-VW                    1m52.116s  +0.400s
 7. Nicholas Latifi      Prema Dallara-Mercedes               1m52.259s  +0.543s
 8. Antonio Giovinazzi   Carlin Dallara-VW                    1m52.334s  +0.618s
 9. Spike Goddard        T-Sport Dallara-NBE                  1m52.558s  +0.842s
10. Felix Serralles      West-Tec Dallara-Mercedes            1m52.594s  +0.878s
11. John Bryant-Meisner  Fortec Dallara-Mercedes              1m52.606s  +0.890s
12. Felipe Guimaraes     Double R Dallara-Mercedes            1m52.665s  +0.949s
13. Dennis van de Laar   Prema Dallara-Mercedes               1m52.690s  +0.974s
14. Riccardo Agostini    EuroInternational Dallara-Mercedes   1m52.712s  +0.996s
15. Mitch Gilbert        Fortec Dallara-Mercedes              1m52.754s  +1.038s
16. Felix Rosenqvist     Mucke Dallara-Mercedes               1m53.001s  +1.285s
17. Lucas Auer           Mucke Dallara-Mercedes               1m53.013s  +1.297s
18. Jake Dennis          Carlin Dallara-VW                    1m53.026s  +1.310s
19. Sean Gelael          Carlin Dallara-VW                    1m53.323s  +1.607s
20. Jules Szymkowiak     Van Amersfoort Dallara-VW            1m53.442s  +1.726s
21. Gustavo Menezes      Van Amersfoort Dallara-VW            1m53.445s  +1.729s
22. Alexander Toril      T-Sport Dallara-NBE                  1m53.455s  +1.739s
23. Tatiana Calderon     Jo Zeller Dallara-Mercedes           1m53.558s  +1.842s
24. Roy Nissany          Mucke Dallara-Mercedes               1m53.572s  +1.856s
25. Michele Beretta      EuroInternational Dallara-Mercedes   1m53.588s  +1.872s
26. Hector Hurst         West-Tec Dallara-Mercedes            1m54.362s  +2.646s