Force India wants Formula 1's governance to be reformed
| | |
| --- | --- |
| By Jonathan Noble | Wednesday, April 16th 2014, 16:10 GMT |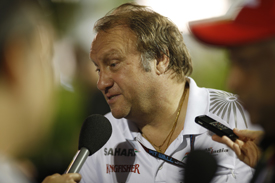 Force India has vowed to keep up the pressure for Formula 1's governance to be reformed, as it believes the current structure is unacceptable.
Amid growing unease from some teams about the decision by F1's six biggest outfits to block plans for a cost cap, there has been increased scrutiny on the influence of the sport's Strategy Group.
Smaller outfits claim the group, which is made up of six teams, six FIA representatives and six representatives from F1's commercial rights holder, has over-stepped its mark.
And Force India deputy team principal Bob Fernley reckons that the controversy over the cost cap issue - which has prompted a strongly-worded letter from four teams to the FIA - shows that the Strategy Group is not working.
"I think that shows the frailty in my view of the system as it is today," said Fernley. "It [the Strategy Group] is totally unacceptable and we will never change our mind on that.
"How can you enrich six very strong teams and disenfranchise six, and expect those six to be happy?
"Let's keep at it, because we have not backed off at any point.
"We are trying to be constructive in the criticisms, but nevertheless criticise. We have to stay with that."
FIA NOT BACKING DOWN
FIA president Jean Todt has insisted that the smaller outfits have no right to complain about the structure.
While he understands that they are unhappy with the way the six teams in the Strategy Group have more of a say, he points out that the structure was made clear to every outfit when it signed up for commercial terms with Bernie Ecclestone
"To be fair, some who are not in the strategy group are not happy and I can sympathise," Todt explained.
"But they all signed the Concorde Agreement knowing it was like that.
It was not something like 'let's sign the Concorde and we will tell you how is the governance after.'"