Top F1 teams defend decision to prevent cost cap introduction
| | |
| --- | --- |
| By Jonathan Noble | Wednesday, April 16th 2014, 14:21 GMT |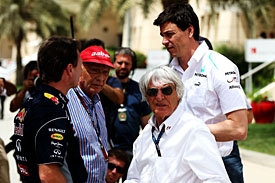 Formula 1's top teams have defended their decision to scupper a 2015 cost cap, insisting that it would have been wrong for the sport.
FIA president Jean Todt announced at the Bahrain Grand Prix that he had given up on plans for a cost cap to be introduced next year because of opposition from the six outfits in F1's Strategy Group.

That decision has infuriated the sport's smaller teams, who fear that F1 could be heading for 'financial disaster' if the FIA does not get a grip on rising costs.
But two key members of the Strategy Group have defended their stance, and insist that spending can be brought under control without the need for a cost cap.
Red Bull boss Christian Horner told AUTOSPORT: "I think the situation is that a cap is never going to effectively control the costs.

Formula 1's unfair revenue sharing
"All of the teams are effectively agreed that we want to reduce the costs, and the most effective way to do that is really through the sporting regulations more than anything.
"So we need to look at the sporting regulations and look at what are our cost drivers."
Mercedes motorsport boss Toto Wolff was in favour of a cost cap, but reckoned it was futile to try to get one imposed because of the level of opposition from his rivals.
"We found out that with a cost cap there was too much opposition from certain teams," he told AUTOSPORT. "We have to accept that.
"But we believe very strongly that costs must be coming down, and limited in a certain way.
"If sporting and technical regulations are the way to go, and there is enough historic proof that it worked - like cutting back the testing, the introduction of curfews and parc ferme, then again let's explore that avenue and come up with some rules.
"Hopefully that will get the costs down."