Millennium Racing withdraws from WEC season-opener at Silverstone
| | |
| --- | --- |
| By Gary Watkins | Wednesday, April 16th 2014, 07:58 GMT |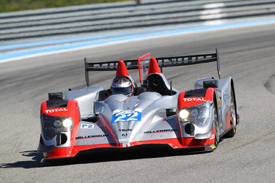 The Millennium Racing LMP2 team run by Delta-ADR has been forced to withdraw from this weekend's opening round of the World Endurance Championship.
The withdrawal of Millennium's pair of ORECA-Nissan 03s follows a delay in funding from parent company OMD, a Dubai-based group that is investing in motorsport and new automotive technologies.
A statement from Millennium read: "The budget was to be released by the end of March 2014, but unfortunately there has been circumstances that have prevented the commitment being honoured within the time constraints for Silverstone.
"OMD funds were deposited on January 7, 2014 within a major international bank, on an account legitimately owned by OMD. Political manoeuvres have been since then initiated by some international institutions in order to block OMD actions."
The statement explained that an international court of decision had confirmed the legitimacy of OMD to own and use these funds and instructed the World Bank to fully release them.
This decision is "currently being processed from an administrative perspective," the statement continued.
OMD managing director Bertrand Vallois said: "OMD will be able to fulfil all its commitments in the coming days, including [those] for the Millennium programme, which will then start according to the plan.
"This programme is very important for our future developments and we are looking forward to the next steps."
Millennium Racing team principal Simon Dowson said he was devastated to miss the Silverstone WEC event.
"Our programme has always been based on a long-term partnership, and alongside our disappointment of missing Silverstone, we have to stay positive about our future plans," he explained.
The Silverstone-based team will race in the WEC with a line-up including John Martin and Mike Conway, who last year took P2 victory in four of the eight races.