Indy 500 practice and qualifying changes introduced
| | |
| --- | --- |
| By Mark Glendenning | Tuesday, April 15th 2014, 08:30 GMT |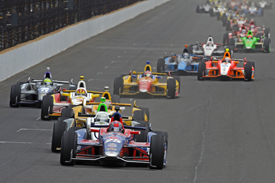 IndyCar has added an additional practice day and modified the new qualifying system for this year's Indianapolis 500.
Under the new qualifying format, which was announced last month, entries essentially secure their place on the grid on Saturday, May 17 and then determine the actual starting order the following day.
The amended rule allows a competitor who 'suffers a hardship' at the conclusion of the Saturday to make the field on Sunday, although they would start from the rear of the grid.
The other element of the new rule is that teams are now permitted to bring new entries forward for the opportunity to claim a position in the race after Saturday qualifying, although again, they would start from the last row.
This amendment could be interpreted as a form of insurance against the event falling short of its traditional 33-car grid.

Indy 500 qualifying overhaul
With teams expected to place so much emphasis on qualifying during the practice days, the series has scheduled an additional day of practice on May 19, which IndyCar president of competition and operations Derrick Walker says will provide extra time for working on race preparation.
"On Sunday teams will be completely focused on qualifying, so we added another practice session to give them a sufficient amount of time to test their race setups," said Walker.
"Previously a majority of teams have utilised most of Sunday for full-tank running, so it was important for us to continue to give them that opportunity after qualifications are complete."
As with the rest of the Indy 500 schedule, the additional practice day will be open to the public.