Darlington NASCAR: Kevin Harvick converts pole to commanding win
| | |
| --- | --- |
| | Sunday, April 13th 2014, 03:17 GMT |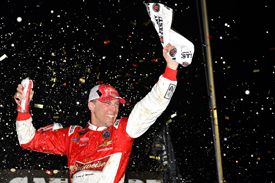 Kevin Harvick became the first repeat winner of the 2014 NASCAR Sprint Cup season by taking a dominant victory in the night race at Darlington.
The Stewart-Haas driver initially lost the lead from pole after fellow front row starter Joey Logano made the better getaway, but after much jostling for position, Harvick returned to the front on lap 55 of the planned 367.
From that point on he drove a perfect race and - bar a brief mid-race period when an out-of-sync Brian Vickers ran up front for 30 laps - remained in charge until a couple of late caution periods threatened to undo his hard work.
The first came courtesy of Logano who, on lap 358, left debris on the track after his Penske Ford made a smokey retirement.
This produced a rush down pitroad and Harvick fell to fifth as he opted to take on four tyres, while Hendrick team-mates Jimmie Johnson and Dale Earnhardt Jr went for two instead.
The race resumed on lap 362 and the six-time champion managed to pull away before Ricky Stenhouse Jr had a moment at Turn 1 and littered the track with yet more debris.
An attempt at a green-white-chequered finish on lap 369 had to be abandoned when Kurt Busch slammed into the inside wall on the front stretch, by which point Harvick had made his way up to second, behind Earnhardt - the pair having benefitted from Johnson's poor restart.
The second attempt was more successful and Harvick capitalised on his earlier decision to replace all four tyres as he shot past his Hendrick rival and cruised to his second win of the season.
Johnson came home third ahead of Matt Kenseth, who struggled at the beginning of the race. But when the sun went down he found his pace and worked his way up the order from the back of the field.
Kyle Busch fended off seven-time Darlington winner Jeff Gordon for sixth. The Hendrick veteran never strayed from the top three for the majority of the race and only lost out on a better finish in the final restart lottery.
Results - 374 laps:

Pos  Driver              Team/Car                      Time/Gap
 1.  Kevin Harvick       Stewart-Haas Chevrolet    3h53m37.000s
 2.  Dale Earnhardt Jr   Hendrick Chevrolet             +0.559s
 3.  Jimmie Johnson      Hendrick Chevrolet             +1.163s
 4.  Matt Kenseth        Joe Gibbs Toyota               +1.695s
 5.  Greg Biffle         Roush Fenway Ford              +2.203s
 6.  Kyle Busch          Joe Gibbs Toyota               +2.367s
 7.  Jeff Gordon         Hendrick Chevrolet             +2.636s
 8.  Kyle Larson         Ganassi Chevrolet              +2.869s
 9.  Tony Stewart        Stewart-Haas Chevrolet         +3.075s
10.  Ryan Newman         Childress Chevrolet            +3.432s
11.  Austin Dillon       Childress Chevrolet            +3.716s
12.  Clint Bowyer        Waltrip Toyota                 +3.937s
13.  Carl Edwards        Roush Fenway Ford              +4.193s
14.  Marcos Ambrose      Petty Ford                     +4.373s
15.  AJ Allmendinger     JTG Daugherty Chevrolet        +4.510s
16.  Jamie McMurray      Ganassi Chevrolet              +4.682s
17.  Brad Keselowski     Penske Ford                    +4.731s
18.  Casey Mears         Germain Chevrolet              +4.933s
19.  Denny Hamlin        Joe Gibbs Toyota               +5.410s
20.  Ricky Stenhouse Jr  Roush Fenway Ford              +5.530s
21.  Josh Wise           Parsons Chevrolet              +5.737s
22.  Danica Patrick      Stewart-Haas Chevrolet         +6.350s
23.  Justin Allgaier     HScott Chevrolet               +2 laps
24.  Aric Almirola       Petty Ford                     +2 laps
25.  Landon Cassill      Hillman Chevrolet              +2 laps
26.  Brian Vickers       Waltrip Toyota                 +3 laps
27.  Martin Truex Jr     Furniture Row Chevrolet        +3 laps
28.  David Gilliland     Front Row Ford                 +4 laps
29.  Alex Bowman         BK Toyota                      +5 laps
30.  Parker Kligerman    Swan Toyota                    +5 laps
31.  Kurt Busch          Stewart-Haas Chevrolet         +6 laps*
32.  David Ragan         Front Row Ford                 +7 laps
33.  Travis Kvapil       Go FAS Ford                    +7 laps
34.  Joe Nemechek        NEMCO JRR Toyota               +8 laps

* Not running at finish

Retirements:

     Joey Logano         Penske Ford                   359 laps
     David Stremme       Circle Sport Chevrolet        327 laps
     Kasey Kahne         Hendrick Chevrolet            323 laps
     Cole Whitt          Swan Toyota                   301 laps**
     Reed Sorenson       Baldwin Chevrolet             289 laps
     Ryan Truex          BK Toyota                     274 laps**
     Paul Menard         Childress Chevrolet           270 laps**
     Michael Annett      Baldwin Chevrolet             101 laps
     Dave Blaney         Humphrey Ford                  65 laps

** Running again at finish