Jerez GP3 test: Jimmy Eriksson and Koiranen head final day
| | |
| --- | --- |
| | Friday, April 11th 2014, 15:06 GMT |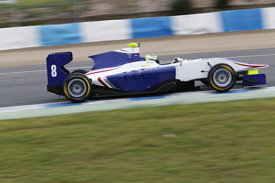 Jimmy Eriksson finished on top of the times on the second and final day of GP3 testing at the Jerez circuit.
The Swedish Koiranen driver clocked a best time of 1m30.732s in the morning session, going over half a second quicker than what Thursday's pacesetter Nick Yelloly had managed.
Yelloly led the afternoon session, but all the fastest times were set in the morning as teams worked on race-orientated programmes later on.
Briton Alex Lynn continued with his strong pre-season, finishing in third place for Carlin ahead of team-mate Emil Bernstorff.
Robert Visoiu in the Arden car and ART's Dino Zamparelli completed the top five.
Trident's Victor Carbone caused the only stoppage in the morning session when he spun into the gravel. Santiago Urrutia also put his car on the gravel in the afternoon, triggering the second red flag of the day.
Pal Varhaug caused the third red flag when he stopped his Jenzer machine on track.
The GP3 field moves to Barcelona for the final test of the pre-season on April 16-17.
Combined Friday times:

Pos  Driver               Team      Time       Gap      Laps
 1.  Jimmy Eriksson       Koiranen  1m30.732s           78
 2.  Alex Lynn            Carlin    1m30.902s  +0.170s  65
 3.  Emil Bernstorff      Carlin    1m31.135s  +0.403s  66
 4.  Robert Visoiu        Arden     1m31.139s  +0.407s  68
 5.  Dino Zamparelli      ART       1m31.140s  +0.408s  81
 6.  Pal Varhuag          Jenzer    1m31.291s  +0.559s  30
 7.  Marvin Kirchhofer    ART       1m31.372s  +0.640s  78
 8.  Alex Fontana         ART       1m31.374s  +0.642s  79
 9.  Nick Yelloly         Status    1m31.379s  +0.647s  70
10.  Santiago Urrutia     Koiranen  1m31.413s  +0.681s  49
11.  Patric Niederhauser  Arden     1m31.578s  +0.846s  63
12.  Jann Mardenborough   Arden     1m31.686s  +0.954s  66
13.  Dean Stoneman        Manor     1m31.867s  +1.135s  64
14.  Roman de Beer        Trident   1m31.888s  +1.156s  55
15.  Patrick Kujala       Manor     1m32.026s  +1.294s  77
16.  Richie Stanaway      Status    1m32.065s  +1.333s  65
17.  Luis Sa Silva        Carlin    1m32.174s  +1.442s  52
18.  Christopher Hoher    Jenzer    1m32.213s  +1.481s  66
19.  Nelson Mason         Hilmer    1m32.231s  +1.499s  48
20.  Adderly Fong         Jenzer    1m32.234s  +1.502s  77
21.  Ryan Cullen          Manor     1m32.416s  +1.684s  81
22.  Alfonso Celis Jr     Status    1m32.421s  +1.689s  77
23.  Victor Carbone       Trident   1m32.646s  +1.914s  68
24.  Denis Nagulin        Trident   1m33.628s  +2.896s  64
25.  Ivan Taranov         Hilmer    1m34.266s  +3.534s  50
26.  Carmen Jorda         Koiranen  1m35.362s  +4.630s  47