Buddy Lazier to enter Indianapolis 500 with family-run car
| | |
| --- | --- |
| By Mark Glendenning | Thursday, April 10th 2014, 13:58 GMT |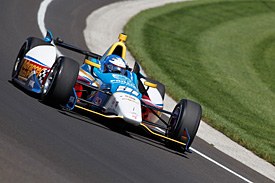 Buddy Lazier, winner of the 1996 Indianapolis 500, will attempt to qualify for this year's edition of the race in a car run by his family-organised Lazier Partners Racing team.
The news comes 12 months after the 46-year-old's comeback race with the same team.
On that occasion, Lazier's plans were finalised so late that he only had minimal opportunity to practice, yet he still managed to scrape into the field before retiring early with a mechanical problem.
Lazier's father and team co-owner Bob Lazier is confident that the experience gained in 2013 will prove invaluable this time around.
"It took a monumental effort in 2013 to organise the team in such a short period of time and make the race," he said.
"Now, we've had the entire year to organise the team, and we have raised the expectations for this year's Indianapolis 500."
Lazier will drive a #91 entry with Chevrolet power for what will be his 18th start and 23rd appearance at Indianapolis.
In addition to his 1996 win, the 2000 Indy Racing League champion has finished second twice (1998 and 2000), fourth (1997) and fifth (2005).