Rebellion Racing set to race old car in first round of WEC
| | |
| --- | --- |
| By Gary Watkins | Tuesday, April 8th 2014, 16:06 GMT |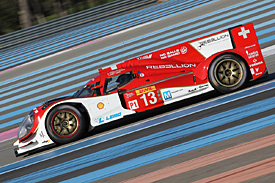 Rebellion looks set to delay the debut of its new R-One and press its old Lolas into service for the opening round of the World Endurance Championship at Silverstone.
The shakedown of the Toyota-engined car, designed and built by ORECA, has been delayed again from Paul Ricard at the end of this week to the same venue early next week.
Team manager Bart Hayden told AUTOSPORT: "The final yes or no has not been taken, but I would not bet on the R-One being at Silverstone.
"Even if the test went perfectly, it would probably be asking too much for the car to be there."
That would mean Rebellion going to Silverstone with two of its Lola-Toyota B12/60s, which have appeared next to the team's name on the entry list since last month.
That resulted from an application to the FIA endurance committee to be able to run the old-rules Lolas against the new breed of LMP1.
The committee has decided to increase the performance of the Lola to the same level at which it ran in the American Le Mans Series last season.
The car would run with a larger-diameter air restrictor and at 890kg rather than 900kg, and has also had its fuel capacity increased by five litres to 83 litres.
Rebellion has already tested its Lolas: it ran them at the official WEC test at Paul Ricard last month in order to get the team and drivers race fit for the start of the WEC.
Hayden could not confirm that the Rebellion R-One would definitely be at Spa for the second round of the WEC on May 3.
"We already had two days scheduled for Paul Ricard on April 24/25 in the week between Silverstone and Spa," he explained.
"That will be a more thorough test of the cars, which will hopefully go well enough for us to be able to take the cars to Spa."
Rebellion has confirmed its line-ups for the season: Nick Heidfeld, Nicolas Prost and Mathias Beche will drive #12, and Fabio Leimer, Andrea Belicchi and Dominik Kraihamer will race #13.