Ecclestone admits there's no easy fix for F1 noise problem
| | |
| --- | --- |
| By Jonathan Noble | Tuesday, April 8th 2014, 09:42 GMT |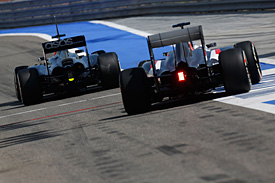 Formula 1 supremo Bernie Ecclestone has warned fans that there may be no easy fix for making the 2014 cars louder.
F1 chiefs agreed in Bahrain last weekend that something needs to be done to increase the noise of the turbo engines.
It comes after a wave of complaints that the 2014 machines are too quiet, including fears from Ecclestone that race fans may turn their backs on the sport as a result.
But ahead of a new FIA think-tank beginning work on a noise solution with the goal of testing louder engines after the Spanish Grand Prix, Ecclestone underlined that he is aware of how complicated the situation is.
F1 2014 NOISE CONTROVERSY

Formula 1 cars to be made louder

Opinion: The point sound critics are missing

Vettel slams 2014 F1 engine sound

Renault says F1 noise can't be changed
Speaking to AUTOSPORT, Ecclestone said: "We are working on this to see what we can do. If we knew what to do, we would do it. It is as simple as that.
"It is not any one person who can decide. We have this group now that can sort this out. But at the moment no one knows what to do."
MERCEDES SUPPORT CRUCIAL
Ecclestone welcomed the fact that Mercedes had been supportive of the move to increase noise even though changes to the engines could erase some of its advantage.
"The good thing is that the people that could be anti, and say we don't want to do anything or don't want to talk about anything, we are not interested because they have the best unit - they are the first people to say we will do whatever we can do," he said.
"They are working on it seriously. And don't worry - it will be done."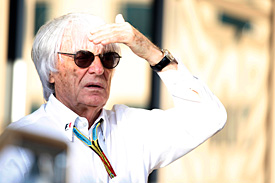 Mercedes motorsport boss Toto Wolff accepted that while he had no personal problem with the 2014 car sound, fans' complaints could not be ignored.
"I think with the noise it is pretty obvious that it is very different - but does it mean it is better or worse?" he told AUTOSPORT.
"Everyone has a different opinion but we must listen to the opinions.
"So we will see what we can do, and explore all avenues.
"And if there is an avenue that makes sense and is feasible and doesn't put the rules upside down, then it is something that needs to be explored."
Wolff backed Ecclestone's assessment of the complications involved in increasing engine volume without changing the fundamental rule concept.
"We have asked the engineers and they said they need to analyse it and find out," he said.
"It is not simple and it is not obvious, because the purpose of the technology is to utilise the exhaust gases in propelling the engine and the turbo.
"So we are more efficient because we are not blowing so much energy out of the exhaust."
This week's AUTOSPORT magazine - available in shops and online from Thursday April 10 - includes an in-depth analysis of how the noise row came to a head in Bahrain