Hamilton admits Bahrain GP battle with Rosberg on 'knife edge'
| | |
| --- | --- |
| By Jonathan Noble | Monday, April 7th 2014, 09:39 GMT |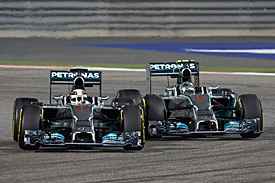 Lewis Hamilton has confessed that his battle with Nico Rosberg for victory in the Bahrain Formula 1 race was "on the knife edge".
With the pair having been left free by their Mercedes Formula 1 team bosses to fight it out for victory, there were several moments during the Sakhir race when they were close to contact.
But with the pitwall electing not to intervene and call the race off, in the end Hamilton was able to resist Rosberg to take his second consecutive victory.
Hamilton said that with so much at stake both men had to be on the limit of what was possible between team-mates.

GP analysis: Hamilton wins Rosberg's race
"I think naturally in that race we were on the knife edge," he said. "And when you're on the knife edge, the risk increases. Undoubtedly we were on the limits.
"But I was not letting up. He was doing 100 per cent, so I was doing 100 per cent. I couldn't be doing 95 per cent. He drove fantastically well, he was fair and I like to think I was as well. It was close.
"But we didn't damage each other's races - and the team put that trust into us, which was great."
HAMILTON HAILS MIRACLE FINAL LAPS
Hamilton had struggled to get as good a balance on his car as Rosberg for most of the Bahrain weekend, and admitted that he was not as quick as his team-mate in the race.
So when he was left on the slower medium tyre for the final stint after the safety car, he reckoned he was a sitting duck.
"I struggled from P3 onwards quite a bit," he said. "We had a problem with the car with the braking system in qualifying. It got worse, as there was a leak, which they fixed for the race.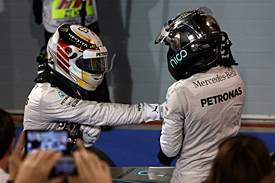 "But still in the race I was towing him around for a while but he generally had a similar pace to me.
"When the safety car came out I thought, 'shoot - he's on options, I'm on primes, that's it.' It's going to take a miracle to hold him back because there is around 0.6 seconds in those tyres - and he had so much grip behind me.
"So it felt like one of the best calculated races I've had, in terms of how I was using my power and how I was positioning my car.
"He'd catch me down the back straight, was still with me at the last corner and have 10 or 12km/h on me with the DRS, I had to accept that he was going to come past.
"I couldn't go to the inside and then block. I had to move a little bit, but then had to get back. I don't know how I did it all the time."