Bahrain GP: Button says McLaren second only to Mercedes at Sakhir
| | |
| --- | --- |
| By Pablo Elizalde | Sunday, April 6th 2014, 19:34 GMT |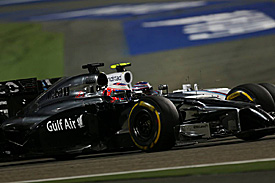 Jenson Button believes Mercedes was the only Formula 1 team quicker than McLaren in the Bahrain Grand Prix, despite his team's double retirement.
Both Button and team-mate Kevin Magnussen endured race-ending clutch problems in what was the Woking team's first point-less race since last year's British Grand Prix.
Despite the disappointment, Button believes there are reasons to be positive and feels only the dominant Mercedes was quicker than McLaren at Sakhir.
"We didn't finish but in terms of pace during the race, yes," said Button when asked if McLaren had taken a step forward.
"Our degradation was positive, I think we've done a very good job understanding the tyres, and our pace was there.
"The only team that was quicker than us today was the Mercedes, Force India was obviously competitive, but I think we would have fought them very well at the end but we didn't get the opportunity."
He added: "It was going really well, the car was working well and there was only one team that was obviously quicker than us, and it was about a second-and-a-half quicker.
"But apart from that we were looking good - Force Indias we were chasing them at the end of the stints, they struggled more - so I was looking forward to the end of the race on the primes, but we didn't get that opportunity."
The Briton believes a podium place would have been possible today given McLaren's strong race pace.
"It's tough because I think, at worst, we were on for at least a fifth place and I think we could have challenged for the podium, which is a good thing I suppose," he said.
"I think there was only one team which was actually quicker than us today and that was Mercedes, obviously that's a different category. But apart from that, I think we raced very well, we could have challenged the Force Indias for a podium."
Team-mate Magnussen, on the other hand, reckons points were out of reach for him today after a difficult race.
"I think looking at Jenson it wasn't possible to get any points today so it doesn't really cost us that much. It's disappointing that we are in this position, but we will just have to fight through it."