World Rally Championship drivers ordered not to talk to TV crews
| | |
| --- | --- |
| By David Evans | Saturday, April 5th 2014, 13:45 GMT |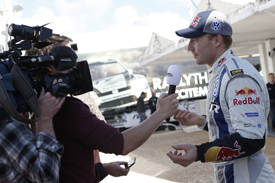 Manufacturer drivers have been ordered not to speak to television crews in Portugal in the latest escalation in the dispute between the World Rally Championship teams and promoter.
The teams are not happy that they were denied television footage by the WRC Promoter last night and decided unanimously to instruct their drivers and co-drivers not to give interviews to the WRC television crews.
AUTOSPORT understands that in order to get footage from Friday, the teams were required to sign a contract with the promoter. This contract is at the centre of the dispute.
WRC Promoter chief Oliver Ciesla said he was baffled by the manufacturers' stance and implied that those who signed the contract in question would receive it.
"I cannot answer why they are doing this. I simply do not understand it," he said.
"In regard to the footage they are entitled to get by the underlying agreements and in line in what they ask us for before the event - and let's not forget, this footage does not fall out of the sky, we need time to carve it out - whoever ordered it, gets it."

Follow the Rally of Portugal as it happens on AUTOSPORT Race Centre Live
One team member said: "It's a crazy situation, but we had no option. They say we cannot have the clip, so we say: 'OK, so you cannot have the words from the drivers.'
"We don't want to do this, but we have not option."
The teams and the promoter are meeting again this afternoon to try to find a solution.
All of the leading drivers confirmed to AUTOSPORT that they had not given exclusive interviews with WRC television, but they had spoken with WRC Live radio reporters Colin Clark and George Donaldson.