Fernando Alonso says 2014 Formula 1 cars are too slow
| | |
| --- | --- |
| By Jonathan Noble | Thursday, April 3rd 2014, 16:01 GMT |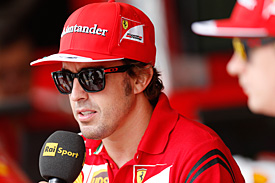 Fernando Alonso says his biggest complaint about the new Formula 1 is that the cars are too slow.
Ahead of meetings this weekend between senior F1 representatives to discuss the spectacle delivered by the new regulations, Alonso said on Thursday that he was not too upset about the challenge of the racing.
He was, however, unhappy that much of the thrill of driving F1 machinery had been taken away because lap times had plummeted so much in the races.
"It is still exciting because at the end of the day you are competing against the others," he said.
"That is the DNA of the driver, the competition. If we drive go-karts, we enjoy so much and we are driving at 50km/h with very hard tyres and sliding everywhere and we keep enjoying that race.
"So it is not a problem of excitement. It is just that the cars are too slow.
"The fastest lap in Malaysia was 1m34.8s with Vettel some years ago (his pole time in 2011), and Hamilton did a 1m43.0s [fastest race lap last weekend], so that's nine seconds.
"And behind the wheel, when you drive nine seconds slower, you don't enjoy as much as driving the fast car.
"As far as it is the same for everybody, and you compete against the others, you keep enjoying.
"But for drivers like me or Kimi [Raikkonen] or Jenson [Button] who drove another F1, it is not better or worse, but you will miss some of those cars."
RULE TWEAKS WILL NOT HELP
Although there is talk that tweaks to the sporting regulations may be enough to spice up the racing, Alonso is not convinced that such changes will help matters.
"If they allowed some more fuel in the cars that are fast, they will be even faster," he said. "And the cars that are slow will be a little bit less slow.
"It's not that we will see the Marussia or the Caterham winning the race. We need to try to do a better show, but we need to think in which way. We need to give a little bit more time also to the races because we only had two.
"There is a long way to go. There will be some exciting races. There will be some boring races, like in football.
"Some matches you see 0-0 and it's a terrible match and then the next week you see 5-4 and you enjoy so much the game.
"We are all waiting for this exciting race that everyone hopefully enjoys, and we see this weekend if we can put something better."
NO CONSENSUS AMONG DRIVERS
Although some drivers believe the racing is boring, not all of them agree.
World championship leader Nico Rosberg does not think that the racing this year is any different from how it has been in the past.
"It's all very, very similar," he said. "Tyres I thought they were going to be rock solid, but no, we're still doing three stops. The cars are heavier at the end of the race but lighter at the start.
"We're a lot slower; I prefer going faster but that's the way it is. The Malaysia race was unbelievable, the track was so bad from all the rain, we were just so slow.
"Fuel saving is the same as all the other years. It's no different."