Stephane Ratel satisfied with 2014 Blancpain GT grids
| | |
| --- | --- |
| By Gary Watkins | Thursday, April 3rd 2014, 09:01 GMT |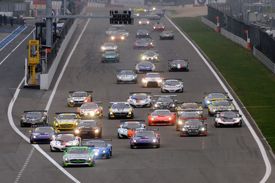 Blancpain GT Series boss Stephane Ratel has expressed satisfaction with the entries for his endurance and sprint championships in 2014, despite a reduced grid for the former.
The five-round Blancpain Endurance Championship has attracted 44 cars, which is down from last year's 62 full-season entries, while the entry for the Blancpain Sprint Series remains at a similar level to last year when it was known as the FIA GT Series.
Ratel said he had no problems with the decrease in the size of the grid for the BES, which kicks off at Monza on April 12.
"There has been some natural attrition, but we know from our teams that 60 cars was too many," he said.
"We had quite a lot of unhappy teams last year who didn't like working with 60 cars in the paddock and overcrowded garages."
The BES entry is split between 12 cars in the Pro Cup, 22 in the Pro-Am division and 10 in the all-amateur Gentlemen Trophy.
Highlights of the Pro class entry include two factory Bentley Continental GT3s run by M-Sport, two Audi R8 LMS ultras fielded by 2012 BES champion team WRT, a pair of Mercedes-Benz SLS AMGs run by reigning champion squad HTP Motorsport and two McLaren MP4-12Cs from ART Grand Prix.
Ratel said he was happy with the BSS entry, with the exception of the Pro-Am class, which has only attracted two cars.
"I thought 26 to 28 cars was possible, but some teams did not follow us," he explained.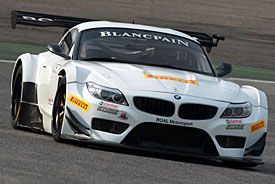 "The problem is that Pro-Am isn't what we had hoped for: I have two cars whereas I should have something like eight, but the rest is good."
In addition to the two Pro-Am cars, there are 12 all-pro entries and six cars in the new Silver Cup class, which is open to silver-graded drivers under 25.
WRT field four Audis in the BSS, one under the G-Drive Racing banner, ROAL Motorsport runs a pair of BMW Z4s, including one for ex-Formula 1 driver Alex Zanardi, who will race alone in the series and HTP also doubles up with its pair of Mercedes.
Five teams, including WRT, HTP and ROAL, are entered in both championships, which will allow them to compete for the Blancpain GT Series titles.
This is based on points scored across the two series and comes with a €100,000 (£82,000) prize fund.