Craig Breen: Acropolis Rally win is biggest career achievement yet
| | |
| --- | --- |
| By David Evans | Wednesday, April 2nd 2014, 13:25 GMT |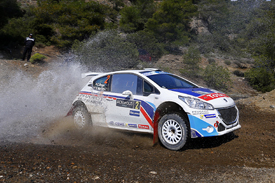 European Rally Championship leader Craig Breen says his Acropolis Rally win is the biggest achievement of his career, exceeding his World Rally Championship Academy and Super 2000 WRC titles.
Breen scored his first ERC win in Greece last weekend on the debut for Peugeot's new 208 T16.
"This win blows everything else out of the water," he said.
"It still hasn't sunk in yet that I won the Acropolis Rally - it's out of this world.
"What happened last weekend was definitely the biggest moment of my career.
"It's better than the SWRC because of the manufacturer competition. This is another level, the commitment and the pace is different here [in the ERC]."

Watch Acropolis Rally videos on the AUTOSPORT rallying page
The win has cemented Breen's belief that he can win the ERC title in the new Peugeot's first year of competition.
He now heads works Skoda driver Esapekka Lappi by four points in the standings.
"It's fantastic to be leading the championship," said Breen, "and there's no doubt now that we're going to be aiming for the championship.
"It's not that we weren't before, but what we have done in Greece is show just what this car is capable of."
Breen will return to the 208 T16 for the Circuit of Kerry in Ireland on Sunday, as a shakedown ahead of the next ERC round, the Circuit of Ireland on April 18-20.
ERC title success this season would make Breen the first Irish driver to win the European championship.