Brands Hatch BTCC: Andrew Jordan grabs first pole of 2014
| | |
| --- | --- |
| By Kevin Turner | Saturday, March 29th 2014, 16:20 GMT |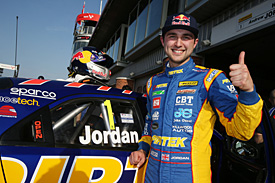 Reigning champion Andrew Jordan has qualified on pole for the first British Touring Car round of the season at Brands Hatch, as champions filled the top five.
Free practice pacesetter Jason Plato narrowly led the field after the first runs, his 48.300s pushing the new Honda Civic Tourers of Matt Neal and Gordon Shedden down to second and third respectively.
Plato's MG6 then recorded another two faster laps, leaving the benchmark at 48.240s until the final five minutes of qualifying.
Then Jordan, who had held fourth spot for much of the session, improved twice in his Eurotech Honda Civic. The second lap pipped Plato to pole with 48.228s.
"I didn't get the best out of it at the right time," admitted Plato. "There's nothing in it."
A late effort from 2009 champion Colin Turkington netted third, while Neal and Shedden completed the top five thanks to their earlier runs.
BTCC rookie Tom Ingram was an impressive sixth in his Speedworks Toyota Avensis with a time set shortly after the halfway mark.
Aron Smith narrowly led former champion Alain Menu as the BMR VW Passats filled seventh and eighth spots.
Mat Jackson managed to get his Motorbase Ford Focus into the top 10, just ahead of WSR's Rob Collard, but 2007-2008 champion Fabrizio Giovanardi could only manage 18th.
Former British F3 champion Marc Hynes had a engine change in his Triple Eight-run MG6 before qualifying and ended up 16th, within 0.5s of pole.

Pos Driver               Car                  Time     Gap      Laps
 1. Andrew Jordan        Eurotech Honda       48.228s            21
 2. Jason Plato          MG                   48.240s  +0.012s   24
 3. Colin Turkington     WSR BMW              48.298s  +0.070s   26
 4. Matt Neal            Honda                48.321s  +0.093s   27
 5. Gordon Shedden       Honda                48.371s  +0.143s   27
 6. Tom Ingram           Speedworks Toyota    48.404s  +0.176s   27
 7. Aron Smith           BMR VW               48.419s  +0.191s   24
 8. Alain Menu           BMR VW               48.447s  +0.219s   21
 9. Mat Jackson          Motorbase Ford       48.479s  +0.251s   29
10. Rob Collard          WSR BMW              48.487s  +0.259s   30
11. Rob Austin           RAR Audi             48.488s  +0.260s   30
12. Sam Tordoff          MG                   48.506s  +0.278s   23
13. Nick Foster          WSR BMW              48.542s  +0.314s   31
14. Adam Morgan          Ciceley Mercedes     48.590s  +0.362s   26
15. Jack Goff            BMR Vauxhall         48.696s  +0.468s   26
16. Marc Hynes           MG                   48.701s  +0.473s   27
17. Martin Depper        Eurotech Honda       48.842s  +0.614s   27
18. Fabrizio Giovanardi  Motorbase Ford       48.884s  +0.656s   27
19. James Cole           UA Toyota            48.921s  +0.693s   26
20. Dave Newsham         AmD Ford             48.936s  +0.708s   18
21. Hunter Abbott        RAR Audi             49.001s  +0.773s   28
22. Warren Scott         BMR Vauxhall         49.034s  +0.806s   22
23. Glynn Geddie         UA Toyota            49.053s  +0.825s   23
24. Lea Wood             Houseman Toyota      49.479s  +1.251s   30
25. Simon Belcher        Speedworks Toyota    49.733s  +1.505s   25
26. Jack Clarke          Motorbase Ford       49.767s  +1.539s   15
27. Aiden Moffat         Moffat Chevrolet     50.242s  +2.014s   26
28. Robb Holland         Rotek Audi           50.369s  +2.141s   25
29. Olile Jackson        Welch Proton         50.487s  +2.259s   28
30. Chris Stockton       BTC Chevrolet