Malaysian GP: Valtteri Bottas first F1 driver to get penalty points
| | |
| --- | --- |
| By Pablo Elizalde | Saturday, March 29th 2014, 14:37 GMT |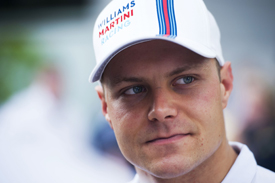 Valtteri Bottas became the first Formula 1 driver to be awarded penalty points following the introduction of the system for the 2014 season.
Under the new rules, any driver who earns 12 penalty points during a 12-month period will be given a one-race ban.
Williams driver Bottas was awarded two points for having impeded Daniel Ricciardo during qualifying for the Malaysian Grand Prix.
The Finn was also hit with a three-place grid penalty for Sunday's race, meaning he will start from 18th position.
Bottas, who admitted he did not expect to be penalised, was convinced that he had not hurt Ricciardo's lap.
"I thought it would be OK and there would be no penalties," he said.
"He was coming very quickly and it was a bit closer in the last few corners than maybe it should've been," said Bottas.
"It didn't cost him anything in the end and I wasn't sure whether he was on a timed lap or not."
The stewards ruled that he should have shown more awareness.
"The driver did not pay attention to the approaching car and continued to impede car #3 through Turns 14 and 15," said a statement from the officials.