Porsche lowers hybrid energy output of WEC challenger
| | |
| --- | --- |
| By Gary Watkins | Saturday, March 29th 2014, 08:28 GMT |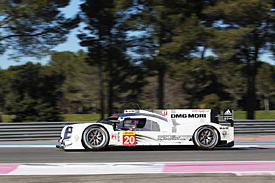 Porsche has downgraded the amount of hybrid energy its new 919 will run in this year's World Endurance Championship.
The German manufacturer had announced its intention to race in the highest of the four subclasses of recovered energy in 2014, which allows for eight megajoules to be used per lap of Le Mans.
Now it has revealed that its 919 Hybrid has been homologated for the season in the 6MJ division.
Porsche LMP1 technical director Alex Hitzinger said: "We designed a system to see what was possible and with that system it's not really possible to achieve 8MJ. That is why we have homologated the car at 6MJ."
Porsche has denied that this is a U-turn: a company spokesman insisted that it had only announced that it was its goal to run in the highest class.
The 919 Hybrid will now run in the same class as the Toyota TS040 HYBRID, which was unveiled on Thursday.
Audi, which unlike its rivals is only running one energy-retrieval system on its R18 e-tron quattro, will race in the smallest of the four hybrid categories allowing for 2MJ.
The FIA and the Automobile Club de l'Ouest, which jointly write the LMP1 rulebook, have revealed that they have told the teams what their fuel-allocation will be for the first three WEC races of 2014.
The figures have yet to be published and the two bodies have yet to explain how they have changed from the initial numbers published in the P1 rulebook last December.